Here is our weekly round-up of what the national and local restaurant critics are writing about, for the week ending 7 March 2021.
England remains in national lockdown, although with a 'roadmap' of dates with restaurants and pubs closed until 12 April at the earliest, and then only open to serve single households seated outdoors: https://www.gov.uk/government/publications/covid-19-response-spring-2021/covid-19-response-spring-2021-summary.
All of Wales is at alert level 4, with similar restrictions to full lockdown: https://gov.wales/alert-level-4
Mainland Scotland is also in a national lockdown with guidance to 'stay at home', although schools have returned: https://www.gov.scot/publications/coronavirus-covid-19-protection-levels/
Northern Ireland is under strict restrictions until 1 April: https://www.nidirect.gov.uk/articles/coronavirus-covid-19-regulations-guidance-what-restrictions-mean-you
Please continue to order takeaways, cook-at-home kits, vouchers, merchandise and deliveries from your favourite restaurants if you can (we include links to those mentioned); the restaurant industry and everyone involved in it need our continued support.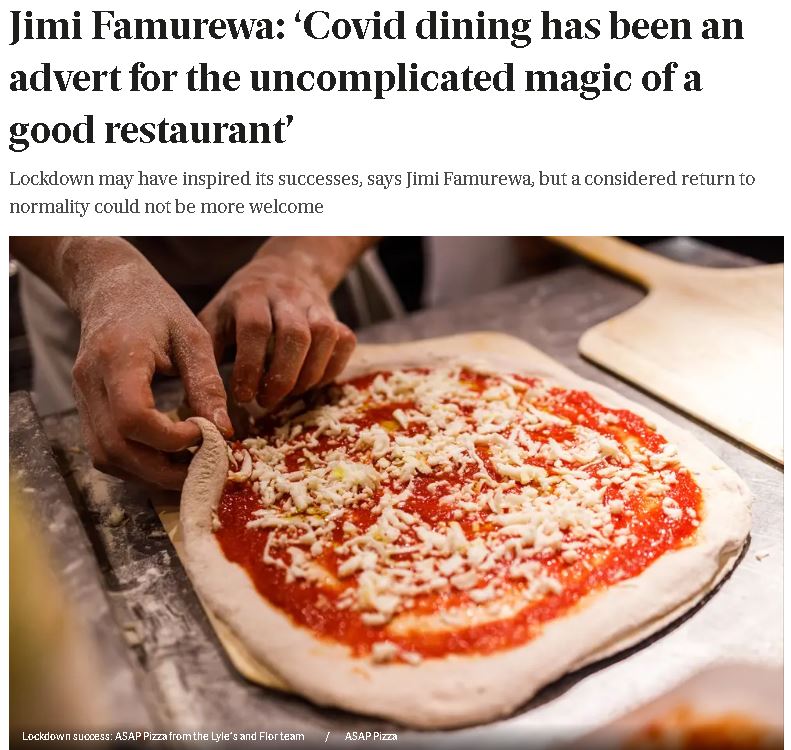 The Evening Standard
"Covid-era dining – swinging from takeaways and curfews to DIY boxes and sandwiches on park benches – has run like one long advert for the simple, uncomplicated magic of a friendly server with a menu in a warm, well-lit dining room."
Chief restaurant critic Jimi Famurewa has been on a rollercoaster of emotion since the 'roadmap out of lockdown' announcements. "Life is rebooting… and I find myself both exhilarated and slightly terrified at the prospect."
April 12 is the first, "hugely significant signpost on our path beyond this prolonged disaster", when we can once again eat at restaurants, albeit outside. Many of us are browsing restaurant websites, placing bookings, making plans, but "there is much more for restaurateurs to think about than the light social whiplash some of us may be experiencing".
The flexibility of the roadmap means – as voiced by James Lowe, "chef-owner of Lyle's, Flor and delivery-only lockdown success story ASAP Pizza" – that "if a couple of things slide by a week or two then we're looking at June rather than mid-May" for the return to indoor dining. Restaurateurs are having to make big decisions about when to open, balanced with the need to start recouping losses and continuing with deliveries and meal kits.
"A careful, slow-paced lifting of lockdown gives these newly multi-faceted food businesses time and space to slim back down to something like their pre-pandemic selves." But, often as not, not an exact replica of 2019. Lowe is planning on returning with fewer covers, and isn't excited about a second round of Eat Out to Help Out.
"The frantic, perma-pivoting hustle of the past 12 months has helped tell restaurateurs the kinds of businesses they want to run and the ones they absolutely don't."
*****
Also in The Standard, a report on Westminster Council repeating its 2020 scheme to encourage outdoor dining: "dozens of streets across the West End will be closed to traffic from April to the end of September to turn them into alfresco dining boulevards".
*****
Alexis Noble, chef behind Stoke Newington's modern Australian restaurant Wander, "is set to spend the entire month saluting the women in hospitality who have supported her over the past year" to celebrate International Women's Day on 8 March.
*****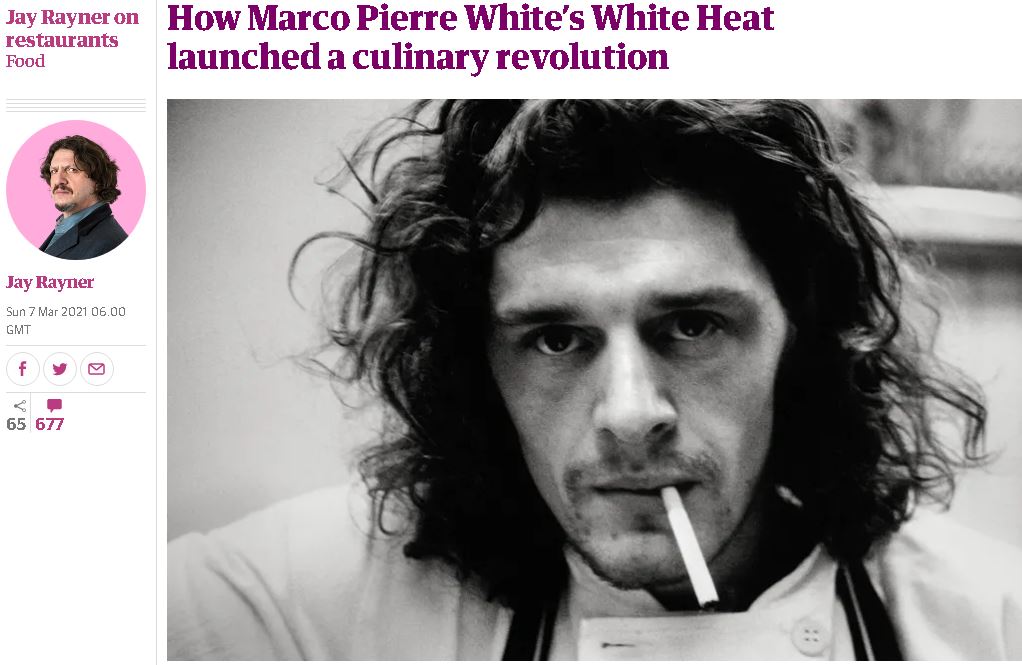 The Observer
This is one we've been waiting for: Jay Rayner on Marco Pierre White's White Heat.
"For legions of chefs White Heat by Marco Pierre White isn't a cookbook, though it does contain recipes. It's a sacred text, only with added knives, flame and caviar."
Harveys, opened in 1987, was "the launch-pad from which White became the first British-born chef to win three Michelin stars" following his work for "Britain's great classical restaurants: the Roux brothers' Le Gavroche, Raymond Blanc's Le Manoir and Pierre Koffmann's La Tante Claire".
"Within weeks his own menu of outrageously luxe dishes… was being talked about, feverishly." Literary agent Mike Shaw and the late photographer Bob Carlos Clarke were regulars, "intrigued by how these fabulous plates of food could be coming out of such a tiny kitchen". The photographer began to hang around in the kitchen, and produced a "portfolio of iconic, grainy black and white shots which captured a moment", with Marco "more than ready to step up to the role of chef as rockstar".
"What really gives the volume its rolling swagger, though, is the outrageous text": Marco "was barely 30 and he was already talking about himself in the third person".
MPW "was in the vanguard of a British restaurant revolution. But the French classicism of the food also makes him look like the end of something: 1987 also saw the opening of west London's River Café and Kensington Place, both of which served the antitheses of his food".
That tiny kitchen also produced many of today's top chefs, of course – Stephen Terry, Gordon Ramsay and Phil Howard just three of them, but interestingly (and completely opposite to Jay's review from last week, of Nose to Tail Eating) "none of the chefs I spoke to said they had ever really executed any of the recipes. Nobody bought it to cook from. They bought it for a bit of Marco." Jay attempted a lemon tart but "the recipe is bizarre… almost as if Marco Pierre White wasn't actually trying to provide a useful recipe".
And sadly, "nobody has done a better job of obscuring the early, shimmering brilliance of Marco Pierre White than late-career Marco Pierre White."
*****
The Mail on Sunday
Tom Parker Bowles in YOU Magazine tried out two more meal kits this week.
First, the "quietly magnificent" kit from Gary Usher's Elite Bistros At Home (elitebistros.com – there's no set price as you choose from a menu, with wine pairings recommended) which featured braised octopus and "beautifully succulent" spatchcocked chicken. "Sure, I'd rather be in Sticky Walnut or Hispi, but this is the next best thing" – "restaurant-quality comfort food".
He also sampled "more Northwestern delight" in the form of the Chinese New Year Box from The Parkers Arms in Newton-in-Bowland. "There's big talent behind those stoves" – "I love their melding of the Lancastrian and Chinese… serious food."
*****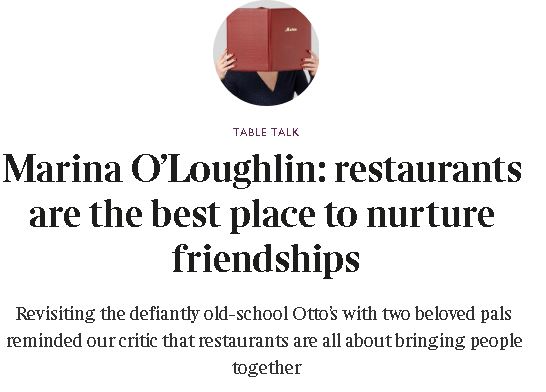 The Sunday Times
"This is the last of this short series on what restaurants — specifically and in general — mean to me and their legions of fans. We may all be worried right now, about schools, businesses, any kind of future. About ill friends or family…. But we should be worrying about restaurants too: we need them in a way that has nothing to do with awards or chef-worship or competitive food TV."
Marina O'Loughlin describes the friendships she has with people she met working in "variously terrible restaurants", who she now meets in "good ones" (well, before lockdown obviously).
Her article is tied in with a description of Otto's, that anachronistic Bloomsbury resident ("by any standards, a curious beast" which remarkably only opened in 2013) that serves canard à la presse and pommes soufflés ("something insanely recherché even in Paris"), and "not only survives but flourishes" thanks to a "clientele looking a bit like the senior echelons of nearby law courts and TV companies celebrating the final toots of the long-lunches-on-expenses horns".
"Restaurants, or forms of them, spring up in the most unlikely places — from dusty highways to refugee camps, small shoots of life and community wherever people want to gather and eat… they enhance our social lives — in the literal sense of the term, our lives as a society."
And also…
"Where there's a lack of travel, there's always food." In The Independent, an interview with Ravinder Bhogal of Jikoni, on how food can take the place of travel right now, and the delivery company she has set up in lockdown: Comfort And Joy, whose vegetarian and vegan meal boxes will soon be available nationwide.
*****
Birmingham Live lists the restaurants with outdoor spaces open for booking from 12 April.
*****
Bristol Live reported on the opening of a new vegetarian cafe and event space, and the Manchester Evening News reviews a vegan 'fish' and chip shop that's branched out from Leeds.
*****
Recent News from Harden's