Barely a couple of months after Brigadiers opened at Bloomberg Arcade, the JKS Restaurants team is back with another concept. This time, it's Berenjak, a classic take on an Iranian kebab house – more specifically, the hole-in-wall establishments of busy, bustling cities such as Tehran.
The group's Karam, Jyo and Sunaina Sethi are working with founder and chef Kian Samyani, who spent his childhood dining around the dining table with his Iranian family. Samyani will concentrate on Iranian cuisine while also drawing on his experiences cooking in JKS stronghold Gymkhana, as well as Brigadiers more recently.
Berenjak, the word for a crunchy toasted rice snack eaten in Iran, is designed as a Persian kebab house. Dishes are in homage to the country, but tweaked for a British audience. Produce will be sourced predominantly from the UK.
Persian cooking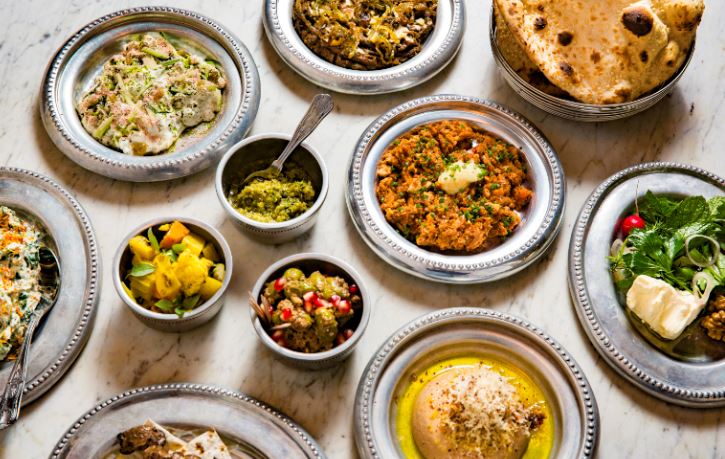 Bread will be central to Berenjak, as will communal dining. Small plates include kashk e bademjoon, blackened aubergine with whey, walnuts and dried mint, and a daily-changing kuku, which is an omelette of seasonal herbs whipped with ricotta.
Kebabs will be traditional and cooked on a meze grill, while feasting dishes such as jujeh, a whole poussin marinated in saffron, lemon and tomato, will feature too. Sides of fried eggs with broad beans, garlic and dill, and baby cucumbers with fermented mint will arrive with pickled vegetables. Yoghurt-based drinks will be available, as will cocktails of gin and distilled fruits.
Said Samyani: "Spices, dips, pickles and handfuls of herbs are the flavours of my childhood, so it's great to be reinterpreting them in Soho. For me, it wouldn't be an Iranian dinner without sitting elbow-to-elbow with friends and family, sharing each dish until every scrap has gone – I'm looking forward to recreating that at Berenjak."