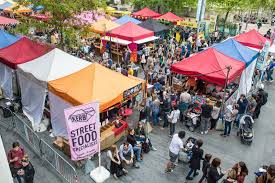 The National Theatre has appointed street-food collective KERB as its "hospitality partner", to provide all the food and drink in its multiple restaurants, cafes and bars, in a deal which underlines how street-food has joined the catering industry's mainstream.
KERB founder Petra Barran, who herself went from mobile dessert van nomad to street-food guru with a TED-X talk under her belt, said the National Theatre tie-up "would never have been conceivable a few years ago".
"As the National Theatre looks to open up more of itself to a wider audience, for us to be invited inside to do what we do is a major step forward for independent food in the capital."
Harden's survey has consistently highlighted the lacklustre performance of the NT's food offering, which reporters have described as "complacently ordinary" and "only worth it if you're going to see a play". Meanwhile, the theatre's management will have taken a cue from the enormous popularity of the street-food market that has run for several years on Fridays, weekends and Bank Holidays behind the Queen Elizabeth Hall, the venue next door to the NT in the Southbank Arts Centre complex.
Barran founded KERB in 2012, and last year it moved into its first permanent, seven-days-a-week site at Seven Dials in Covent Garden. Serving as an incubator for culinary talent, it has set numerous chef-entrepreneurs on the road to street-food stardom, including the legendary Rib Man, Mark Gevaux, a former Best Street Food winner in the Harden's awards; Zan Kaufman of Bleecker Burger; pizza powers Homeslice and Pizza Pilgrims; and the trio behind Taiwanese superstars Bao, now part of the JKS empire and proud proprietors of five London restaurants.
Recent News from Harden's