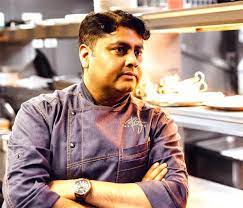 Rohit Ghai, the most prominent of the Indian chefs to have established themselves in London in the past decade, marks his return to Mayfair this autumn with the launch of a new restaurant, Manthan, on the Maddox Street site vacated by Dhruv Mittal's well-received Lucknow 49 when it closed down in August last year. It will be the second upscale venue Ghai has opened under his own name with his front-of-house business partner Abhishake Sangwan, following their three-year-old Chelsea debut, Kutir.
Ghai was chef at the acclaimed Gymkhana before moving on to open Jamavar in 2016 – both within five minutes' walk of his new venture. Manthan means to "churn or reflect", and Ghai said the veggie-heavy menu was inspired by his memories of childhood in India, resulting in "traditional dishes with a modern twist".
"I've never cooked this way before in London – dishes that truly speak of my past as well as my present. Manthan is the culmination of many years of work and I hope it speaks to Londoners as being representative of the comfort food I love at home, as well as the food I have made my name with cooking here."
Ghai and Sangwan also have a much simpler venue, Koolcha at Boxpark Wembley, which serves stuffed naan breads; Ghai will open a further restaurant, Ishka 360, in Doha later this year.