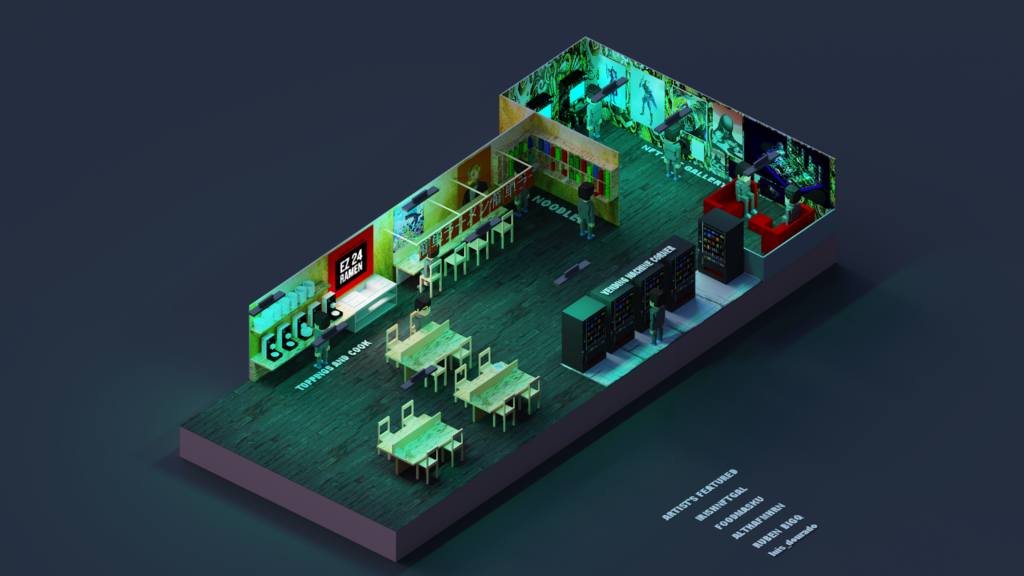 Britain's first 'zero staff' restaurant is scheduled to open in Oxford later this year. EZ 24 Ramen will be open 24 hours a day, serving bowls of ramen prepared to order in three minutes, and there will be no staff on the premises beyond an operative who pops in every day to top up the toppings.
The announcement comes at a time when restaurants are struggling to source sufficient staff in the wake of Brexit, although co-founder Indra Tor is more interested in technology than the travails of the hospitality industry – her background in voxel art (see image above), NFTs and gaming.
She said: "The world has changed, and people's habits are different. EZ Ramen is about being forward-thinking about technology and how we can create a restaurant that is different and embraces new things but also allow people to learn.
"There's a lot of negatively sometimes around new tech, and we want to show people in an organic setting that if done right, the tech can be used to great effect and of course serve them some good ramen."
In real life, though – to judge from EZ 24's website – the offer consists of little more than self-service packet instant ramen, "cooked" by adding hot water, so it's very much the standard student all-night meal. Customers can help themselves to kimchi and toppings, and there will be vending machines with Japanese and Korean hot and cold drinks.
Entry will be by prepaid subscription costing from £1.70 per day for up to 40 visits a month – and it is eat-in only, so anybody caught on CCTV taking packets out will have their subscription cancelled. There will also be a gallery of NFT art, games consoles and plugs so people can work or play on site. The opening date and site for the first EZ 24 Ramen has yet to be announced.
Meanwhile, a range of more conventional restaurant groups are experimenting with service technology to reduce their reliance on human labour. Zizzi is trialling robots at its Westfield White City site, to "help our team carry food to customers, and taking the dirty dishes away". Bella Italia is working with Pudu Robotics to "boost innovation and elevate the dining experience, becoming the largest restaurant chain in the UK to introduce robot technology", while the Boparan Restaurant Group is using fully operational service robots in its Slim Chickens sites in Guildford and Liverpool One to support human teams with table service and click-and-collect orders.