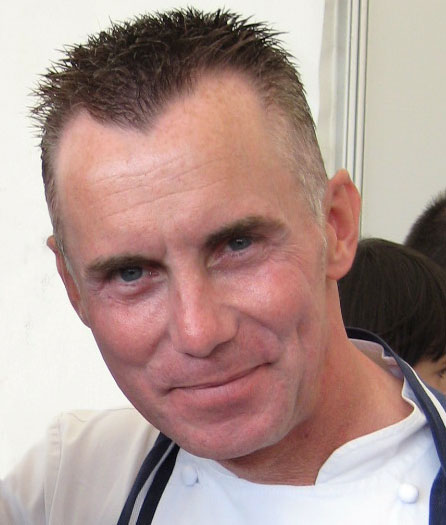 The UK's top chefs have paid tribute to Gary Rhodes after his family announced he had died aged 59 on Wednesday.
Rhodes passed away in Dubai, where he had been living and working since 2011. He was at home when he died on Tuesday "with his beloved wife Jennie by his side".
"The Rhodes family are deeply saddened to announce the passing of beloved husband, father and brother, Gary Rhodes OBE," the statement read.
"The family would like to thank everyone for their support and ask for privacy during this time."
Rhodes came to attention in the early 1990s at The Capital Hotel (then owned by the Levin family) cooking with Brian Turner. He went onto The Greenhouse in Mayair where his – then unfashionable – love of simple British dishes and ingredients (faggots, braised oxtail and bread and butter pudding) helped forge a strong name.
Many rightly see him as a trailblazer and an early champion of local produce, in turn inspiring a new generation of chefs. All say he mentored them with skill and kindness.
The first ever edition of Harden's London Restaurants – the 1992 edition (published in November 1991) – awarded the Greenhouse top marks and noted: "One of the best modern British places in town; Gary Rhodes new broom has brought sweeping changes with affordable, and very appetizing, solid cooking in generous quantities". [The formula price was £35!! – my times have changed]. It was memorable, exciting cooking, which this writer remembers to this day.
With his easy charm, down-to-earth style and trademark spiky hair, he was perfect for the just-whetted appetite of TV for a new style of approachable celeb chef. He fronted numerous cooking programmes as well as at one time hosting MasterChef and Hells Kitchen.
Following on from The Greenhouse he entered into contracts with caterers Sodexo and subsequently Compass to open a series of Rhodes-branded ventures: City Rhodes, Rhodes in the Square, Rhodes & Co (including at Old Trafford), Rhodes 24 and Rhodes W1. They had their ups and downs, but most ventures achieved very decent scores in Harden's over the years.
Early in his career, he attracted controversy for an extremely lucrative series of TV ads for Tate & Lyle sugar. All that went on to be forgotten however. He was awarded an OBE in 2006, and subsequently – the ultimate accolade! – appeared on Strictly Come Dancing in 2008.
Rhodes won six Michelin stars in his glittering career. His work ethic was famous and his driven nature also expressed itself though a love of exercise and a complex relationship with food. He once told The Guardian "You lose your appetite when you're cooking all day" and his known low food consumption on some days and whippet thin physique provoked some questions at the height of his fame as to whether he had an eating disorder.
In Dubai, he seemed well-settled and led a number of restaurants and hotels, as well as enjoying an ongoing media career.
A statement from his Dubai partners said: "The team at Grosvenor House Dubai and Le Royal Meridien Beach Resort and Spa are devastated to hear of the tragic passing of chef Gary Rhodes OBE. Not only has the industry lost a true culinary legend, we have also lost an inspirational human being and a very dear friend.
"No words can express our sadness at Gary's death or our gratitude for the opportunity to work with him. Our thoughts and prayers are with the Rhodes family."
Now departed, the food world's greats (and many others) have come out to pay their respects to one of the first "rock star" chefs.