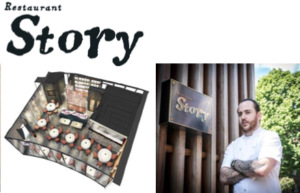 This weekend (31 March) Tom Sellers closes his "modernist culinary temple" Restaurant Story ahead of an extensive month- long interior renovation, the first since its launch in 2013. Re-opening on 8 May, the redesign will not only transform the look and feel of the restaurant, but will coincide with a new menu concept and a refined guest experience.
According to our reporters, Story has long been delivering some of the most interesting food in the capital (if not the UK – some prefer it to The Fat Duck): "Allow plenty of time for the show" ("as the name hints, everything has a story").
The new food concept takes the restaurant's story-telling to new levels. Diners will no longer be given a menu upon arrival, rather each table will be treated individually, creating their own bespoke 'story'. Similarly, as much of the food and beverage service as possible will be performed in the dining room in front of guests, from a drinks trolley to table-side food preparation.
The overall interior refurbishment, carried out by Raven Collective, will see the addition of a feature ceiling installation of swallows taking flight by Michelle McKinney. More textured materials and colour will be presented throughout, including the introduction of tablecloths, more luxurious curved seating and glazed window panels to bring warmth into the room. Music in the dining room will feature a playlist curated by the band Rudimental.
On re-opening, Story will offer a choice of two menus per service – for lunch, there will be a choice of £50 for five courses, or £100 for eight courses, and for dinner either £125 for 10 courses, or £145 for 12 courses. Meanwhile Sellers will host a pop-up called Merry Men in Bermondsey from 4-22 April.