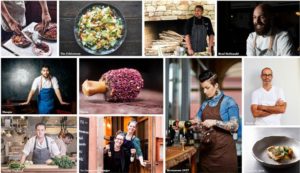 Marylebone's revolving creative hub, Carousel, has announced its upcoming roster of guest chef residencies. This spring the restaurant will host an unprecedented range of global chefs working alongside Ollie Templeton and his team to prepare a four or five-course dinner menu that showcases their signature style, using seasonal produce from the British Isles.
Among the highlights, are Prateek Sadhu, formerly of Alinea, The French Laundry and Noma, who will be creating a menu of foraged and forgotten ingredients showcasing the 'wilderness to table' philosophy of his Mumbai restaurant, Masque; the Lockhart's Brad McDonald, now residing in New Orleans, who'll be revealing a more refined, classical French edge to his repertoire, alongside a few familiar Southern-inspired surprises; Mauricio López of Gustu, La Paz, rated among Latin America's very best restaurants thanks to its inventive menus of little known Bolivian ingredients; and finally, Rishi Naleendra of Cheek by Jowl, a Michelin-starred modern Australian restaurant in Singapore that's won critical acclaim for its distinctive dishes combining a variety of cuisines.
Carousel's front of house team takes care of wine and cocktail pairings for each dinner, tickets for which are all priced at £39.50 per person. With this season of chefs hailing from some of the world's most revered culinary hot spots, from Tel Aviv to Sri Lanka, the line-up cements Carousel's reputation as the place to experience the best restaurants from around the world in the middle of London.
Esra Muslu
27-31 March 2018
Esra Muslu has set Istanbul's dining scene alight with her concepts of contemporary Turkish fare with a focus on wood fired cooking. Now she's back in London, where she discovered her passion for food sixteen years ago, to open her latest venture, Zahter. Previewing the venture at Carousel expect vibrant mezze dishes such as 'Grilled Octopus, Broad Bean Purée, Dill, Parsley and Spring Onion' and 'Roasted Lamb Shoulder, Aubergine Begendi and Dukkah…'.
The Ethicurean
3-7 April 2018
Opened by brothers Ian and Matthew Pennington, The Ethicurean is set in a glasshouse on the edge of Somerset's spectacular Mendip Hills. A favourite with the likes of Marina O'Loughlin and the Michelin Guide, it is founded on three key principles: British seasonality, the ethical sourcing of ingredients and synergy with the local environment. The brothers will showcase these principals with dishes such as 'Roasted brassica tops, apricot labneh, pickled kohl rabi & smoked almonds'.
Restaurant 1877
17-21 April 2018
Housed in Bergen's former 'Kjøttbaseren' (meat market) Restaurant 1877 provides an unforgettable dining experience inspired by Norwegian food culture and tradition. Head chef and co-owner Christer Økland's, who counts Noma, The Fat Duck and Alinea among his former employers, makes the most of the abundance of amazing produce fished, farmed and reared on Norway's dramatic southwestern coast. Expect diverse dishes such as 'Snow Crab Salad, Compressed Iceberg Lettuce, Mushroom and Seaweed, Cucumber and Jalapeños.'
Masque
17-21 April 2018
Mumbai's most ambitious restaurant, Masque's 'wilderness to table' philosophy permeates head chef Prateek Sadhu's menus of foraged and forgotten ingredients. Following experience cooking at Alinea, The French Laundry and Le Bernardin, it was at Noma with René Redzepi that Prateek was opened to the possibilities of working exclusively with ingredients from one region. With dishes such as 'Smoked Oyster and Sour Yoghurt' and 'Pork Krapow with Cabbage', this will be a residency focusing on Himalayan and Northern Indian produce and modern cooking techniques.
APRIL / MAY
Susantha Medegedara (Resplendent Ceylon)
24 April-5 May 2018
Susantha Medegedara has been cooking for over a decade as executive chef of Sri Lanka's Resplendent Ceylon collection of hotels. Encompassing Sinhalese, Tamil, Muslim, Malay and Burgher influences, expect dishes such as 'Langoustine Kiri Hodi' and 'Devilled Chicken'. Susantha will be showcasing a new and exciting side to Sri Lankan cuisine that goes beyond the much-loved hopper.
Brad McDonald
15-19 May 2018
Brad McDonald's career began at City Grocery, Mississippi, and continued with stints in Alain Ducasse, Per Se and Noma, before moving to the UK to open famed London restaurants, Lockhart and Shotgun. Brad returns to London this May from his home in New Orleans to explore his farm-to-table ethos and passion for classical French cooking techniques with a menu featuring dishes such as 'Eel Matelotte, Smoked Marrow and Potato Sauce' and 'Chicken Fried Sweetbread, Buttermilk and Almond "Ranch"'.
Gustu
22-26 May 2018
Noma co-founder Claus Meyer opened Gustu in 2013 with the intention of starting a new Bolivian gastronomic movement. Now No. 28 in Latin America's 50 Best, the ground breaking La Paz restaurant celebrates 100% local Bolivian ingredients with dishes such as 'Amaranth and Açaí Caviar with Amazonian Almond Milk and Malted Wheat' and 'Bolivian-style Ceviche'.
MAY / JUNE
Barak Aharoni
28 May-2 June 2018
Barak Aharoni has worked in some of Israel's most acclaimed restaurants (Raphael, Toto), as well as &Moshik (Amsterdam) and La Petite Maison (London), and is now the executive chef of Alena at The Norman Hotel, Tel Aviv. Alena's Mediterranean-inspired menu is all about extracting maximum flavour from the freshest produce, an approach that's reflected in simple, delicious dishes such as 'Grilled Cauliflower Steak with Courgette and Fresh Herb Purée, Cherry Tomato Oil and Thyme'.
Le Comptoir à Manger
5-9 June 2018
Strasbourg neo-bistro Le Comptoir à Manger is run by two talented young women and specialises in creating delightful dishes from seasonal Alsatian produce. Carole takes care of the carefully curated wine list, whilst Bérangère – who trained at 3* Auberge de l'Ill and 2* Le Manoir aux Quat' Saisons – produces wonderfully creative dishes such as 'Crisp Glazed Turnips with Jus de Viande and Carrot Top Oil'.
Cheek by Jowl
12-23 June 2018
Opened in early 2016 and awarded a Michelin star just eighteen months later, Cheek by Jowl is a Modern Australian restaurant in Singapore, setup by husband and wife duo Rishi Naleendra and Manuela Toniolo. Raised in Sri Lanka, head chef Rishi moved to Australia at eighteen and has had distinguished career in the kitchens of some of the country's most renowned restaurants (Taxi Dining Room, Tetsuya's and Yellow). Dishes like 'Raw Beef Salad of Dry-Aged Wagyu, Maple Butter, Brussels Sprouts and Macadamia' reflect Rishi's distinctive style, while Manuela's pairings of organic and biodynamic wines highlight the couple's commitment to sustainability.
Nurdin Topham
26-30 June 2018
Nurdin Topham's unique style of 'nourishing gastronomy' earned his Hong Kong project, NUR, widespread critical acclaim and a Michelin star. Before that, he spent the best part of two decades in award-winning kitchens, including five years as Raymond Blanc's development chef at Le Manoir Aux Quat'Saisons. Since closing NUR in late 2016 and returning to the UK, Nurdin has been working closely with farmers and scientists to develop something completely unprecedented. He will be showcasing this during in his exclusive preview week at Carousel.
Carousel is open every Tuesday to Saturday for lunch and dinner, noon-3 pm. Head chef Ollie Templeton and his team take the reins for lunch service. Carrying on with their new lunch menu, guests can enjoy crowd-pleasing dishes such as homemade 'Cornish Crab Gnocchi, Chilli and Dill' and 'Black Leg Chicken Kiev, Wild Garlic and Chicken Sauce'. Marking the start of the warmer months, Carousel's herb filled kitchen garden will also be available for guests to enjoy a predinner seasonal cocktail or enjoy lunch al-fresco.