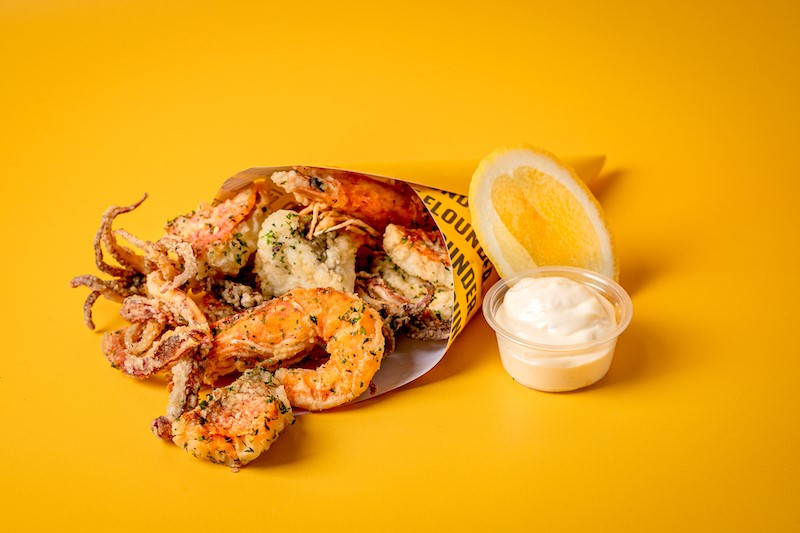 Fin and Flounder, one of London's top fishmongers and supplier to the city's finest restaurants, is to launch its own seafood shack, Bar Flounder, at Netil Market on Friday September 3.
Located just around the corner from the Broadway Market shop, Bar Flounder will be housed in a stunning custom-built modern shack designed by Richard Rogers' son Ab Rogers, and will offer a menu of fun, playful dishes that celebrates the very best sustainable British seafood.
Since it was launched by Brendan O'Sullivan back in 2014 Fin and Flounder has become a staple of Broadway Market, selling fresh seafood bought directly from Cornish day boats to its loyal band of customers. Over the years it's also become a trusted wholesale supplier to some of the most lauded restaurants in London including Brat, Rochelle Canteen, The Clove Club, Lyles, Smoking Goat, Bright, and Tacos Padre. Bar Flounder represents the natural next step, taking the best produce from the shop to create its own menu of perfectly pitched street food.
Led by Brendan's daughter Ruby with the whole Fin and Flounder family, Bar Flounder's menu has been partly inspired by chef John Javier's hugely successful summer pop-up at Fin and Flounder. Bar Flounder will be open Thursday – Sunday every week, offering everything from hangover-busting brunch dishes to crisp fritto misto and weekly specials:
Brunch (Saturday and Sunday 9am – 12pm)
Crab or veggie hash browns, with avocado and fried egg (£7/£5)
Scallop and bacon butty, with tomato relish (£9)
Lobster 'BF' muffin, with fried egg and cheese (£12)
Lunch (Thursday – Sunday from 12pm)
Prawn burger with chipotle mayo (£9)
Salmon tartare served with truffle Torres crisps (£10)
Fritto misto with aioli (£12)
Turbot tenders, with buffalo hot sauce (£12)
Bar Flounder lobster roll (£15)
Sides of chips and deep-fried pickles will complete the menu, along with a beers, wine and the 'Vermouth Slushie', a combination of vermouth, agave, Cointreau and soda – the perfect accompaniment to a summer seafood feast.
Recent News from Harden's