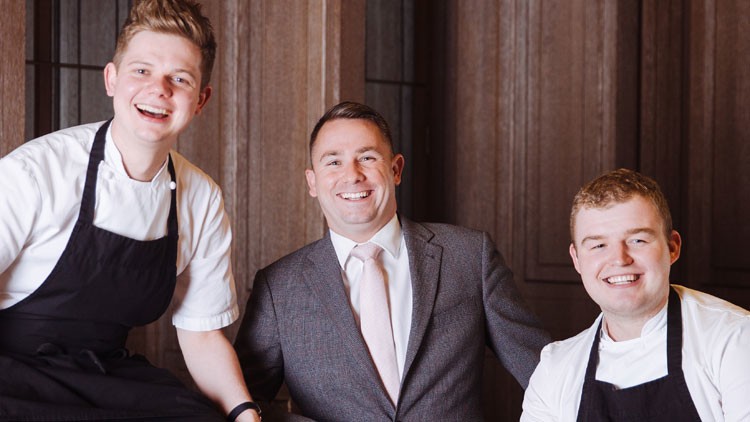 The Dorchester hotel group has appointed Tom Booton as head chef of its famous Grill restaurant. Booton, at just 26, is the youngest chef to hold the position in the restaurant's 88-year history.
Booton has joined from Alyn Williams at the Westbury in Mayfair, where he held the same position, and will be spending the next few months developing his menu – with new sous chef and fellow youngster Alan Nevin – in readiness to launch in October.
Booton won the 2019 Acorn award and will be joined at the Grill by fellow winner Kieran McLoughlin, previously of Hide, who will become the restaurant's new general manager. For both, it's very much a "new chapter", as they have remarked.
The Dorchester's general manager, Robert Whitfield, said: "Tom Booton's talent and energy provide a formidable match in re-affirming the Grill at the Dorchester's position as a leading London dining classic.
"This year marks a new culinary chapter for the Dorchester, with the recent appointment of Stefan Trepp, our first executive chef in 20 years, and this autumn's re-launch of the Grill under Tom's watch."
Harden's had a quick chat with Booton to find out more:
What's it like being the youngest ever head chef at The Dorchester? A big responsibility? Are you feeling ready? The hotel has an incredible reputation, it is a London landmark and I'm definitely taking on a big responsibility, but I'm ready for the challenge. I'll be developing the menus and finalising the concept over the coming months to ensure that we are fully ready for the October showcase.
What do you hope to achieve at the DG and what will you bring to the table? I'm hoping to create a destination restaurant within the hotel with a fresh energy and buzz, seen both in the dining space and across the menus. We've got a strong core team of young talent behind the relaunch including the Grill's GM Kieran McLoughlin and sous chef Adam Nevin – together I think we can create a restaurant to be enjoyed by generations old and new.
Any insight as to what your menu will look like? The menu will be modern British in style – approachable, elegant and vibrant – featuring ingredient-led dishes, all of which shall shine light on local producers.
Recent News from Harden's