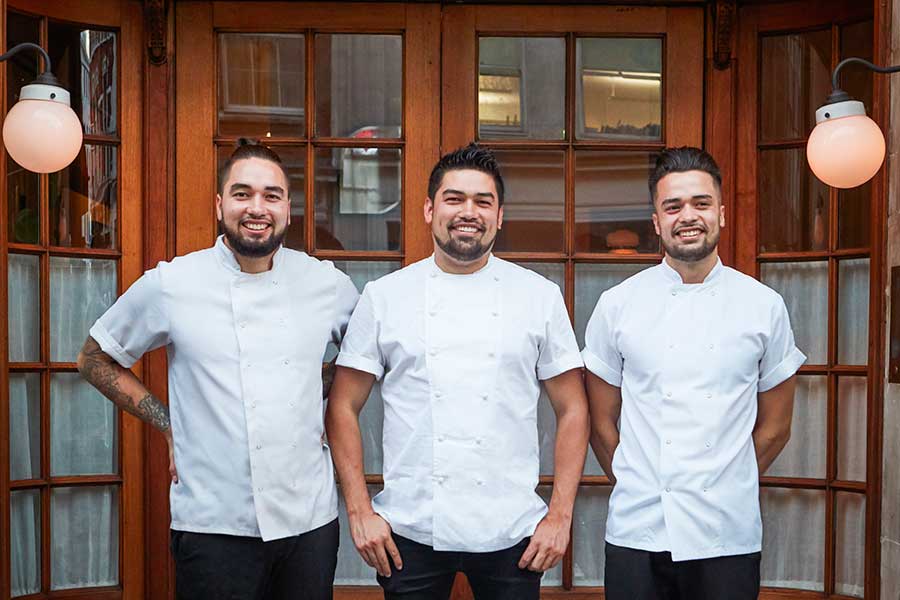 Luke Selby (pictured with his brothers Nathaniel, left, and Theo, right) of Evelyn's Table in Soho has been appointed to succeed Gary Jones, who has stepped down after more than two decades as executive chef at Raymond Blanc's Le Manoir aux Quat'Saisons near Oxford.
For Luke, it marks a return to a kitchen where he spent six formative years earlier in his career, rising from commis to sous chef before leaving to further his career in top kitchens in London and Tokyo. It will also be a big step up in scale: at tiny Evelyn's Table, in the cellar of the Blue Posts pub, he has created meals for 10 guests sitting at a counter, while Le Manoir has 40 or more chefs in its kitchen.
Luke's brothers Nathaniel and Theo, who have been his off-siders at Evelyn's Table, working as what is probably a unique brigade of siblings at this level, will be moving to Le Manoir with him. Raymond Blanc said he was delighted to welcome back "one of the most talented and creative chefs in the UK".
Meanwhile, in what is evidently a well-coordinated shuffling of chefs, Evelyn's Table owners Layo and Zoe Paskin have announced the appointment of James Goodyear to take over from Luke. Most recently head chef at Adam's in Birmingham, James has stints at Hide in London and Mugaritz in Spain on his CV.