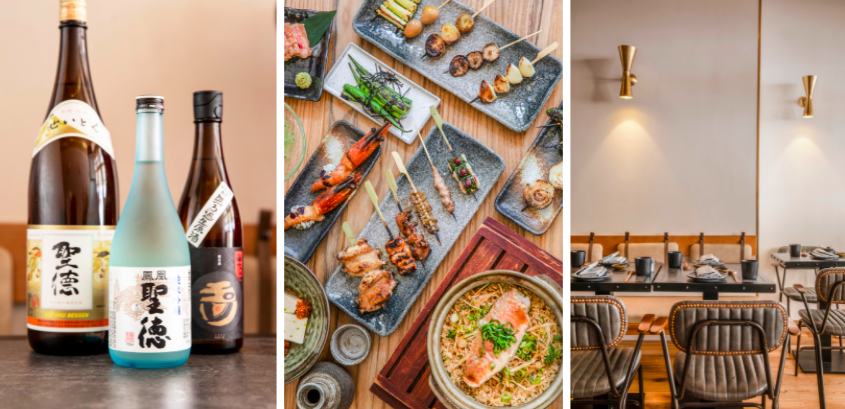 July 1 will see the launch of Junsei, a Yakitori specialist restaurant in Marylebone, and the first venture from Chef Aman Lakhiani. Yakitori (meaning 'grilled bird') "pairs fine-tuned butchery skills and an intimate understanding of grilling techniques to deliver unparalleled umami flavour that honours every part of the animal", the team chimed.
Junsei (meaning 'pure' in Japanese) is a nod to the cooking process: all skewers are grilled over Binchōtan – a white charcoal using Japanese oak – considered the most pure charcoal in the world. Binchōtan, it is said, burns at a high heat, so the meat cooks from the inside out, "ensuring the juices of the meat are locked in".
The menu is centred around the yakitori skewers, with over 20 variations available such as Shiso breast with ume; heart; crispy skin; tsukune; and neck. Veggie options include shiitake mushrooms; soy marinated quail eggs; and fried tofu with ginger and spring onion.
Elsewhere on the menu wil be cuttlefish somen with a cucumber mirin soy sauce; premium A4 wagyu, seared at the table using the Binchōtan charcoal; and rice donabe (clay pot rice dishes) with ed mullet or seasonal vegetables.
Exec chef Aman Lakhiani commented: "We are very excited to be bringing our version of the art of yakitori to London. I have always been fascinated by cooking over fire and the central tenets of yakitori; bringing amazing flavours out of the simplest of ingredients. My training to date has all led to this moment, and it's a dream come true to be launching our first concept in London."
Recent News from Harden's