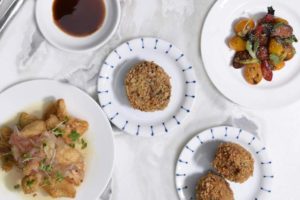 An upcoming restaurant combining – quite oddly, some might say – Japanese and Italian cuisine in Dalston will enforce a 'no-phone' rule at the bar.
Angelina is set to open in February 2019 and will aim to celebrate the best of Italian regional cookery and seasonality, and Japanese flavours and techniques. (We're only aware of the same mix being attempted on Sloane Street at Sumosan Twiga – the next big thing?).
The bar, called Golden Gal, will be a 'hidden drinking den' seating just six guests. There, a strict no phone policy will be in place. Quite why, we don't know.
Owner Joshua Owens-Baigler, who trained at the River Cafe, said: "Our great memory of exploring Shinjuku and the Golden Gai (in Tokyo) was the sense of freedom, placelessness and judgement free nature of these tiny bars.
"By encouraging a phone and social-media free zone at Angelina we hope to replicate the fun and freedom of Shinjuku and create a genuinely more sociable experience."
In the kitchen, Owens-Baigler will be joined by chef Daniele Ceforo, formerly of more traditional Italian restaurants Bocca di Lupo and Murano, and Daphne's ex-head chef Robin Beparry.
Angelina will offer a £48 eight-plate sharing menu. Dishes include unagi risotto with burnt soy butter; tonkotsu, egg and keta caviar; and a black sesame and milk chocolate panna cotta.
Apparently, Angelina promises to "present an experience like no other" and give diners "a multi-cultural mash-up." Ay Caramba!