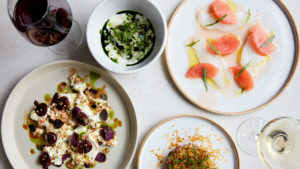 Nicholas Balfe has finally opened the eagerly awaited Levan. The restaurant is a follow up to the "very good and adventurous" Salon in Brixton, which launched in 2013.
Balfe, who at the Ten Bells in Shoreditch worked alongside Isaac McHale of the Clove Club, and James Lowe of Lyle's, has a fine track record of delivering food that's precise, yet accessible, in more casual settings.
At Levan, the food is, we are told, "inspired by the new wave of bistronomy that began in the quartiers of Paris and has spread through the neighbourhoods of Copenhagen and Barcelona."
An all-day venue, the aim is to "focus on contemporary European dishes, and low-intervention and natural wines."
The restaurant is a converted warehouse set over two sections, with a bar and high tables in one, and a more intimate, traditional dining room in the second.
Dishes currently include the likes of fried Comte potatoes with saffron aioli, smoked pollock with spinach, aspragus, and vine jaune, and a 50-day aged rump cap alongside wild garlic and grilled calcot onions.
Balfe said: "Levan tore up the rulebook and wrote the blueprint for what dance music would become. It's this sense of freedom of expression that ties the work of Larry to the work of our favourite left-field wine-makers today, which will be a huge focus at the new restaurant."