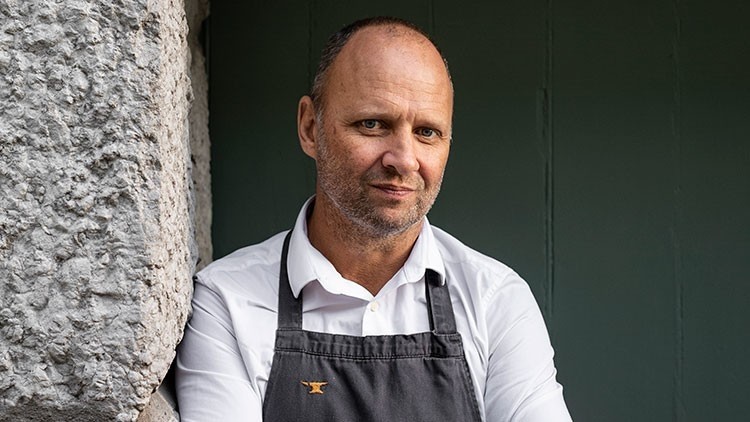 Multi-award winning chef Simon Rogan has announced a new restaurant. Henrock, described as a new "informally elegant" venture (we're not sure what that means either), will be set within Linthwaite House in the Lake District, and will open in October.
With views over Lake Windermere, Henrock will follow Rogan's practised and precise culinary style, using natural, seasonal ingredients in high-end dining room that is, somehow, a little more relaxed than places of a similar ilk.
Henrock's head chef will be Brian Limoges, who joins from San Francisco, where he cooked at the likes of Quince, Birdsong, and Atelier Crenn. We hear they're pretty good.
Like Rogan's near-enigmatic, ever adored L'Enclume, Roganic, and Aulis, he and Limoges will use produce from the chef's purpose-built farm in Cumbria to lay a foundation for the menu. However, unlike the others, the food will not root itself in British and French cooking styles and techniques: Henrock will also lean on influences from across East Asia, with Hong Kong getting a mention specifically.
The menu will comprise small plates and sharing dishes, with the likes of raw aged beef, elderberry and shiso, halibut baked in cabbage leaf, bay shrimp and pink pepper, and fried apple pie, miso butterscotch, and cassia clotted cream'
Rogan said: "Since opening L'Enclume in 2002, it's been a hugely exciting and humbling journey.
"Today, we have five UK restaurants holding four Michelin Stars amongst them and have recently opened Roganic and Aulis Hong Kong.
"It feels like the right time to be strengthening our offering in the north of the UK, a place we call home, with a fantastic team in place and in such a truly unique and stunning setting."
Analjit Singh, who founded the Leeu Collection, which has the 36-bedroom Linthwaite House in its portfolio, added: "I am thrilled that Leeu Collection will be working closely with Simon and the whole team going forward.
"We share many similar values and, I feel, by aligning our brands, we can elevate the experience at Linthwaite House to a unique level and a cut above other offerings in the area."
Recent News from Harden's