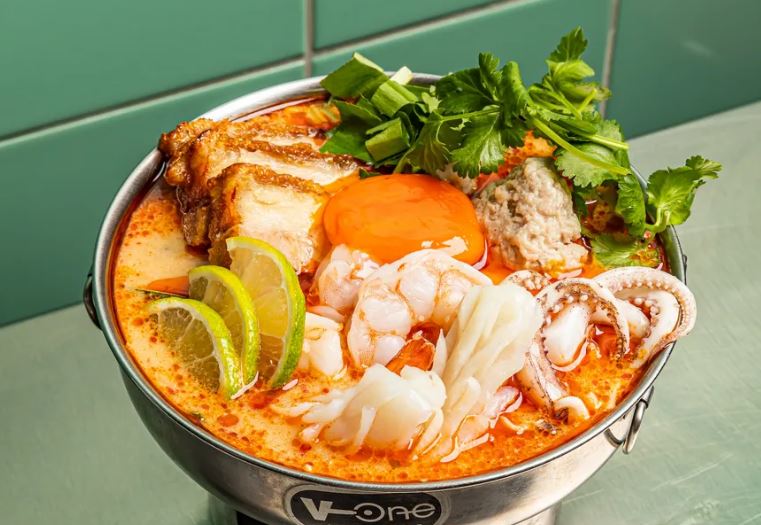 Fresh from his success at Arcade Food Hall, green-fingered chef Luke Farrell opens his latest Thai-inspired restaurant, Speedboat Bar, in Chinatown this month. Named after the boats which race along the klongs or canals of Bangkok, the venue aims to capture the food and atmosphere of the late-night dens of the Thai capital's Chinatown.
Luke was already well established on London's Thai food scene before his triple launches this year. For several years he has supplied restaurants including Smoking Goat, Som San, Kiln and the Begging Bowl with hard-to-find tropical ingredients grown at Ryewater Nursery, his the butterfly farm in Dorset founded by his father, Clive.
Earlier this year Luke opened both a Thai restaurant, Plaza Khao Gaeng, and an Indonesian street-food stall, Bebek! Bebek!, at Arcade Food Hall in Centrepoint tower near Tottenham Court Road station. Arcade is run by the Sethi siblings' JKS Restaurants, his partner with Speedboat Bar.
The new venture will have a menu of curries, noodles, roasted meats and wok-based seafood salads, with a drinks menu including "snakeblood Negronis" and Jameson's whiskey sodas. Its signature dish is Luke's take on Tom Yam Mama – according to legend, during a drinking session the son of a Bangkok chef rustled up a meal of Mama instant noodles and staples including roast pork, squid, long-led coriander, lime and child oil.
Speedboat is set across two floors on Rupert Street, and can accommodate 50 seated and another 100 standing. Bookings open today ahead of the launch date, Thursday 29 September, and it will be open from lunch until late at night.