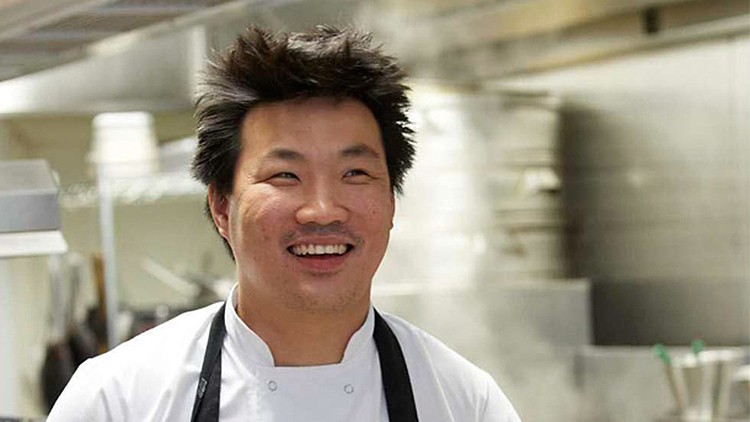 Chef Andrew Wong's latest restaurant Kym's is to open this September in The City's new Bloomberg Arcade.
The steel and glass culinary arena, designed by Norman Foster Partners, is Bloomberg's new European HQ. Already in situ are brands such as Shake Shack, Homeslice, Koya, and the new and lavish Brigadiers, which Harden's previewed in depth last month.
Kym's will be a 'modern premium casual Chinese restaurant'. We are not entirely sure what that means. But we have high hopes given the performance of A Wong – Wong's Pimlico venture. The current Harden's survey gives A Wong a near-perfect score.
"Andrew Wong is a magician!" say readers. The food provides not only some of "the most exhilarating food in London", but also "exceptionally graceful and helpful [service]".
Inspired by his parents' restaurant
So let's hope Wong's new venture will offer the same "incredibly inventive dim sum" – and we have our fingers crossed for some sort of tasting menu, too, which from Wong is an adventure. But the chef is not revealing all that much.
Wong tells us: "My food has always been about the journey: the history of China and the cultures of its gastronomic regions. Kym's will be no different really but this time it's about my community and my own journey. The name is actually something very personal to me and my family."
True to Chinese gastronomy
We do know a little about the story behind the new restaurant. Kym's had been the name of Wong's parents' restaurant in Victoria, which opened in 1985. In fact, Kym's featured in the first edition of Harden's, and, as luck would have it, was one of the very first restaurants we visited in preparation for our first guide.
His family worked there for 27 years and it was where Wong spent his childhood.
We've also been told that the menus will feature a selection of small bites such as Yunnanese lemongrass salad, peanuts, lettuce, chilli, lime; sharing platters of Crispy duck, pancakes, and plum sauce; and classics such as slow poached soy chicken, ginger relish, and rice. Desserts include a pineapple bun with custard.
"Some of the flavours will be instantly recognisable, and will even hark back to the nostalgia of the original Kym's menus," says Wong.
'Sweet and sour elements'
"There'll be sweet and sour elements and more rice-based dishes. Like so much of Chinese gastronomy, it'll be deceptively simple food with a big emphasis on the ancient craft of Chinese 'roasting' meats – and that includes poaching.
"For me though, it's also about celebrating and paying my respects to the contribution the Chinese community has had over the past 100 years on British gastronomy. I think we've all evolved and I want to offer casual Chinese food that is something away from what guests have come to expect."