Reporters from The Telegraph won this week's adventure in restaurant reviewing, with satisfying trips to Alpes and St Leonards. The Standard's guest reviewer also landed a plum job at Henrietta, while almost everyone else suffered a case of "nice place, shame about the food".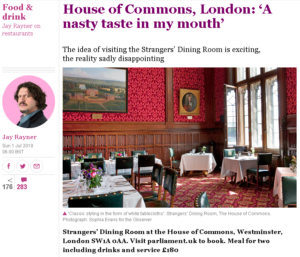 Jay Rayner in The Observer was left with a nasty taste in his mouth and the smell of boiled cabbage on his clothes after a visit to The Strangers' Dining Room in the House of Commons. The  "glorious" location is let down by the" complex online booking process", uncoordinated staff and a menu that's "an overwritten document name-checking lots of flavours that go missing in action" – all for a meal that costs "£65 a head, before drinks, service and self-loathing".
 Jay's opinion is that "the kitchen probably thinks this mediocrity is cutting-edge stuff. It's not. It's banqueting food at a ring-road hotel" and wonders if "the problem with parliament really isn't just the politicians".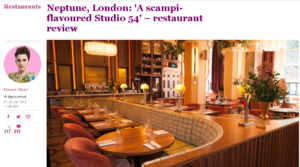 All of the pre-opening buzz about Neptune, the newly opened fish-focused restaurant at The Principal hotel in Bloomsbury, declared it to be a contender for both the best and the coolest dining spot in London. Grace Dent visited see if it lived up to the hype of being a "scampi-flavoured Studio 54".
Certainly, the place is "very beautiful" she declares.  "It is a capacious, peachy-coloured, high-ceilinged, flatteringly lit, pot-plant-festooned seaside Shangri-La", and the food a collection of "highly snappable edible moments" but the dishes themselves were either "pedestrian" or just plain disappointing.  Awarding it a mediocre 9.5/15, Grace soundly refuted the PR puffery: " I am not in love with Neptune, but neither is it hateable, either. At the end of the day, it's just a pretty room serving fish suppers."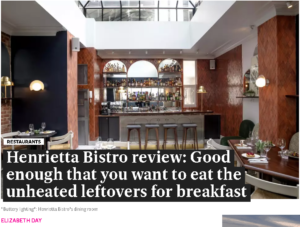 In The Evening Standard this week, novelist Elizabeth Day guest-reviewed Henrietta  (9/10). Despite a "silly name which makes it sound like one of the children who visits Willy Wonka's chocolate factory", the Covent Garden location and her previous experience with restaurants attached to hotels ("hotel bistros are places of unspeakable doom"), she loved it.
The jamon croquetas were perfectly "salty, oozy" nuggets, "lamb cutlets with black olives and aubergine were a joy", and the ossau-iraty cheese was "sensational".
Even the sharing plates format ("one of my least favourite concepts of all time") couldn't put her off – there was enough left over for her companion to take home: "Henrietta Bistro did a good job of defying my prejudices".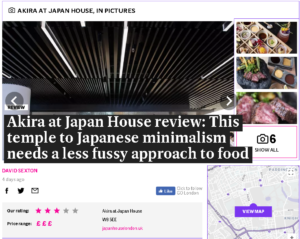 Regular Evening Standard reviewer David Sexton visited Akira in the new Japan Centre (***). Housed in a listed 1920s building, inside it's "a minimalist spectacular, all glass and white walls", although the restaurant has "a warmer aesthetic". The decor gives a hint that the restaurant is "going for high-impact lavishness", but is still finding its feet as chef Shimizu Akira deals with larger numbers than at Engawa.
A sashimi box, although "eminently instagrammable", was "less rewarding than simpler versions in smaller restaurants". Wagyu grilled on the robata was "another dramatic presentation" with "a big taste-and-texture hit".
David left Akira "feeling clobbered by fattiness, sweetness and saltiness", having "spent a potty amount of money for lunch" (the set lunches were £60). His conclusion? The "fussy, over-rich cooking seems strangely at odds with the clean minimalism projected by the rest of Japan House".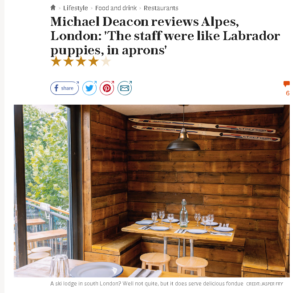 Micheal Deacon in The Telegraph reviewed the tiny Alpes (****) raclette and fondue restaurant in Pop Brixton, where "the staff were like Labrador puppies, in aprons".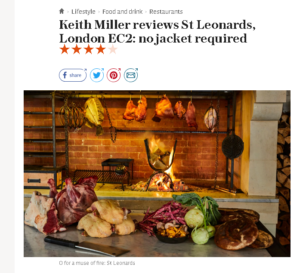 Also in The Telegraph, Keith Miller paid an enjoyable visit to St Leonards (****) the new project from the duo behind Brunswick House, in the spot that housed Eyre Brothers.
He noted many similarities with  St John – a sort of Hendersonian " forceful simplicity" – although considers that " true brilliance still lies a couple of paces in front of it ".
His "south London tribalism" aside, Keith loved how "the cooking lets excellent ingredients speak with their own voice", and he loved the staff; overall. he "marked St Leonards pretty high".
Tom Parker Bowles (for The Daily Mail) seems to have taken the week off to recover from last week's trip to Bagatelle…
In The Financial Times, a review of Cornerstone in Hackney, a "fish-based triumph" where "chef Tom Brown knows fish and flavours well enough to go off-road".
Recent News from Harden's