Clare Smyth tops London Restaurants Awards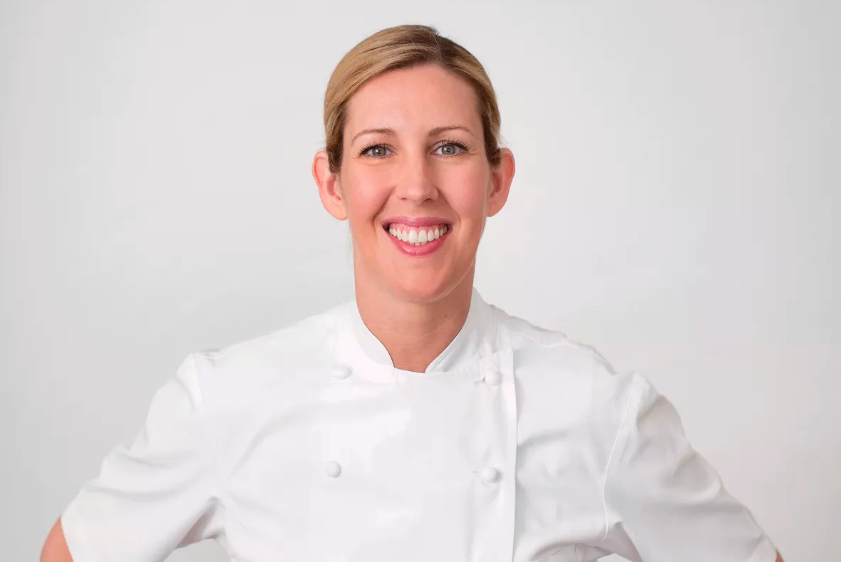 • Second female winner in as many years, as her team accept the award from last year's winner, Marianne Lumb
Harden's unveiled the winners of its definitive 2018 London Restaurant Awards at a glittering gala ceremony in the Grand Ballroom of The Langham, London, sponsored by The Langham hotel itself and England's finest sparkling wine, Gusbourne.
Nominations for the awards are statistically derived from Harden's 28- year-old annual survey of UK restaurant-goers, with 8,000 people contributing 50,000 nominations in this year's poll. The awards shortlist reflects the nominations in each survey category, with two places reserved for up-and-coming names, in keeping with the awards emphasis on recognising new and developing talent. The final selection from the shortlist is made by the Harden's editors.
Ex Gordon Ramsay chef, Clare Smyth – patron of her "unmissable" Notting Hill restaurant, won the Top Gastronomic Award, sponsored by Gusbourne, for "ethereal cuisine delivered with confidence, exuberance and pleasure".  Presenting the award was last year's winner, Marianne Lumb – until recently patron of Marianne, whose own Bayswater premises are not far from those of Core in Notting Hill.
The guide's editor Peter Harden's noted:
"The beats of Sisters are doing it for themselves were echoing around the room as Clare Smyth's team took to the stage to accept their award as London's Top Gastronomic experience, which was presented to them by last year's winner Marianne Lumb. To have wins in two consecutive years from first Marianne and then Clare shows the dominance of restaurants run by male chefs at the top of the London restaurant scene is breaking down."
The star-studded ceremony on 10 September, introduced by Peter Harden and hosted by the BBC's Nigel Barden, presented 14 awards to the cream of London's dining scene, including a special Outstanding Achievement Award, sponsored by The Langham, London.
This honour went to Sam & Eddie Hart, the fraternal duo behind ongoing tapas-phenomenon Barrafina as well as Soho classic Quo Vadis, Borough's El Pastor, and with forthcoming openings in the King's Cross Coal Drops Yard development. Last year, in the 2017 ceremony, the award went to Jeremy King and Christopher Corbin (founders of Rex Restaurants whose properties include The Wolseley); and this year Jeremy King was on hand to present this prestigious accolade to his successors.
Peter Harden said:
"It is very fitting that Jeremy King should be present to hand the award to Sam and Eddie. The Wolseley plus its stablemates and the Barrafina group are both in their way iconic of the new dynamism and know-how, which has transformed London's restaurant trade since the turn of the millennium."
Meanwhile, ex Kitty Fisher's chef, Tomos Parry's "terrific" debut Brat was named London's Top Newcomer, "exceeding high expectations" with his "superb" cuisine (especially his trademark Turbot) and "thoughtful" wine list. Brat only just edged out Picaddilly's new mega-opening Hide with Ollie Dabbous "exquisite, light-with-a-Nordic-touch cuisine", and Old World Hospitality's "addictive" import from New Delhi, Indian Accent to win the award.
In spanning all levels of budget and ambition, the awards recognised the world class inexpensive cooking now available in the capital. Padella – nominated for the third year running – took home Top Cheap Eat for its "perfect and supremely affordable pasta", and Liverpool Street fixture, Schmaltz Truck was awarded Best Street Food for "restaurant-quality, stylish fast-food".
Pimlico's "honest-to-goodness" Regency Café SW1, "the platonic ideal of a Greasy Spoon" with an "unbeatable Full English" collected the award for Best Breakfast or Brunch, while The Rosewood's "descriptively named" Mirror Room was named the city's Best Afternoon Tea spot, sponsored by Rock Rose Gin, for its exquisite 'Art Afternoon Tea' which features a colourful collection of pastries, inspired by the artistic movements of Cubism and Pop Art. When it came to Top Coffee House, "London's original artisanal Kiwi coffee shop" Flat White in Soho was chosen for its "epic brews and easy breezy Antipodean vibe". A couple of postcodes away in Clerkenwell, The Coach won Top Bar or Pub, sponsored by Duvel: "So good to have Henry Harris back again" at what is still "recognisably a pub" but with "keenly priced French food that's more fine dining than pub grub", and including "knockout roasts".
Best for Fish & Seafood, sponsored by Exmoor Caviar, went to Covent Garden opening Parsons, – "one of the most-applauded arrivals of the last year" with "sparkling seafood served with good wines and no faff": a "stylishly simple" contrast to last year's excellent but plutocratic St James's winner, Estiatorio Milos. South of the river, Clapham's "tiny" steakhouse Knife won Best Steaks & Grills, whose "fantastic" meat includes "truly excellent" ethically-sourced steaks from Lake District Farmers and "legendary Sunday lunches".
Hide (reportedly the result of £20m of investment) was one of only three restaurants nominated in more than one category, and achieved recognition in one of them, taking the award for London's Most Interesting Wine List, thanks to Hedonism Wine's "remarkable" selection, also with the option of choosing any one of the 6,500 vintages at Hedonism's Mayfair store. Across town, the "elegant and panelled" Lutyens Grill part of Soho House's year-old landmark hotel in the City, The Ned, was recognised as "a perfect location for a business lunch", winning Best for Business, sponsored by Exmoor Caviar. When it comes to Best for Romance the crown goes to age-old "Bohemian" Soho favourite Andrew Edmunds, where feedback from Harden's reporters says that "even the plainest of dining partners seems to take on a glow".
The Winners in Full
---


TOP GASTRONOMIC EXPERIENCE
Sponsor: Gusbourne English sparkling wine
Aulis
♦ Core – Winner
Le Gavroche
The Ledbury
---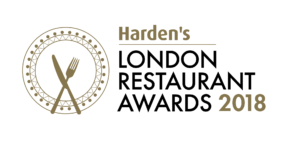 TOP NEWCOMER
Beck at Browns
♦ Brat – Winner
Hide
Indian Accent
---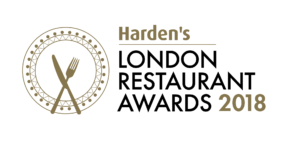 TOP CHEAP EAT
Boxcar  Butcher & Grill

Brasserie Zédel

Chick 'n' Sours

♦ Padella – Winner
---
BEST FOR BUSINESS
Sponsor: Exmoor Caviar

La Dame de Pic
The Delaunay
♦ Lutyens Grill – Winner
Scott's
---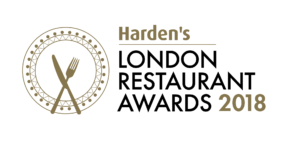 BEST STEAKS & GRILLS
Blacklock City
Boxcar  Butcher & Grill
Flat Iron WC2
♦ Knife – Winner
---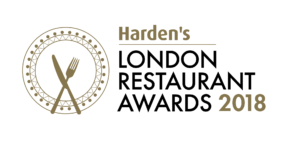 BEST STREET FOOD
The Duck Truck
♦ Schmaltz Truck – Winner
Sub Cult
Yum Bun
---


♦ Hide – Winner
Noizé
Lorne
Tate Britain
---
TOP BAR OR PUB
Sponsor: Duvel
Anglesea Arms W6
♦ The Coach EC1 – Winner
Wells Tavern NW3
The Wigmore W1
---

BEST FOR ROMANCE
Sponsor: Rock Rose Gin
♦ Andrew Edmunds – Winner
Bleeding Heart
Noizé
The Petersham
---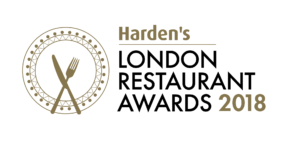 BEST FOR BREAKFAST OR BRUNCH
Caravan Bankside
♦ Regency Café – Winner
St John Bread & Wine
Timmy Green
---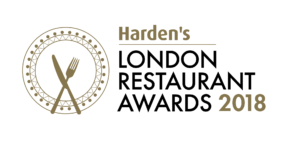 TOP COFFEE HOUSE
Bean & Wheat
♦ Flat White – Winner
Kaffeine, Great Tichfield Street
Prufrock Coffee
---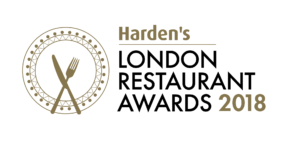 BEST AFTERNOON TEA
Diamond Tea Rooms, Fortnum & Mason
Jean-Georges at the Connaught
♦ Mirror Room, Rosewood – Winner
The Ritz
---
BEST FOR FISH & SEAFOOD
Sponsor: Exmoor Caviar
J Sheekey
The Oystermen
♦ Parsons – Winner
Wright Brothers
---

OUTSTANDING ACHIEVEMENT AWARD
Sponsor: The Langham, London
The ceremony will conclude with the recognition of exceptional achievement in the London restaurant scene, as judged by performance in the Harden's survey over many years.
---
About the Awards
The Harden's London Restaurant Awards comprises a total of 13 categories – with nominees taken from those who performed best in the annual Harden's restaurant survey. This year, more than 8,500 foodies contributed 50,000 reviews.
Each category consists of four nominees, two selected purely on the strength of diners' votes, and a further two selected on a similar basis, but solely from newer restaurant openings of the last 2-3 years. From the four candidates, the Harden's editors pick the final winner, with a bias to recognising rising talent that possesses the potential to emerge as some of London's very best in any given category.
The awards ceremony, presented by the BBC's Nigel Barden, will take place at The Langham Hotel in London's West End on 10 September 2018.
For any press enquiries please contact editorial@hardens.com.
---