Grace Dent in The Guardian rejoiced in the "sheer chutzpah" of chef Alex Bond at Alchemilla even before she ate a bite of the "veg-centric" menu. Bond has turned a huge, "crypt-like space… an abandoned coaching house" that had "sat unloved and festering for more than 100 years" into "a capacious, open brushed aluminium kitchen" – doing much of the work himself.
With a solid background at places like Auberge du Lac and Restarant Sat Bains, Grace felt that Alchemilla is Bond's "bid to fly unfettered" – and doing so, he has created "a sort of semi-fine, fermentation-focused, Japanese-influenced, feasibly Michelin-star-luring experience". It's still experimenting and finding its feet, but "Alchemilla feels to me like a restaurant at the start of a long and important journey".
It's a tasting menu-style operation, with "bright, drilled and knowledgeable" staff. Dishes are a decent size, some inspired with "wonderful oddness" like the "enoki mushroom… draped over duck mousse" and an unforgettable miso-baked aubergine. Properly veg-centric food. She left "full, cheerful and determined to come back again" – what more could a restaurant critic ask? (24/30)
Giles Coren for Saturday's Times magazine is a regular at The Old Butchers, which he calls "the best restaurant for many miles around". It's "mostly a fish place" – the lobster (or Prawn Transformer as his son calls it) is "bloody good… served with perfect, slender, partly skin-on fries". He always has their "incomparable tempura oysters" too, which come "piping hot, crispy and golden as the sun itself" and his daughter invariably plumps for the "staggeringly good" cheeseburger.
And the price? "It's fish, it's the high Cotswolds, it's a grown-up wine list – it's quite expensive. But it's not madness." He mentions the wine quite a bit… (36/40)
Jimi Famurewa for The Evening Standard visited the newly opened Soane's Kitchen at Pitzhanger Manor, the country retreat built in1804 by British architect Sir John Soane (although it's now not so much in the country as in suburban Ealing). The restaurant within is a "handsome setting, with indoor olive trees" and "glass doors flung open to the original walled produce garden", serving "brunchy British fare" with "the odd healthful, Ottolenghian twist (hello cauliflower steak)" from "eager young staff".
So far, so good – and then the food arrived. Starters of "nothingy, murmured" flavours  and "needless" decoration had Jimi reaching for the salt. And it was the same with his main course, which was "underseasoned and fairly dismal" (although his companion had a ham hock salad which "was good in a clodhopping, sausage-fingered sort of way". Simple puddings rescued a menu that felt "pitched awkwardly", but with a good deal of potential. Let's hope it's just teething problems. (6/10)
In The Evening Standard, Fay Maschler paid a visit to the latest Instagram sensation to arrive in London's Covent Garden – Red Farm, where a simple dish of prawn dumplings becomes a play on the retro video game PacMan, that Fay described as "daft" but enjoyed the "tightly packed" and "bouncy" prawn filling.
"Attention-grabbing dishes " such as soup dumplings (with straws) and three-colour dumplings that were a " masterpiece of construction" followed, then a "ravishingly crisped, magically seasoned" shrimp-stuffed chicken from the specials board. However, the experience was marred by "ballsy" pricing (even in soft launch week and with complimentary dishes sent her way) and a "fondness for extraneous garnish". (***)
In The Observer, Jay Rayner assures us that London does need another piri piri chicken place – specifically Caso do Frango, which he called "delightful". It's a "huge, airy space hard by Borough Market" that's  "effortless shabby chic" and has "an inside-out feel".
Gazpacho is "full of garlic astringency and sunshine", and the main event – piri  piri chicken is "small, meaty, very flavourful" and "salty and spicy in all the right places". A side order of rice comes with crispy chicken skin ("sounds to me like a great night out"), and the custard tarts – made in-house – are that "perfect mix of flaky caramelised pastry and deep eggy custard". The communal seating suits the "elbows-out, face-down" cuisine, and took Jay back to a Portuguese holiday of his youth.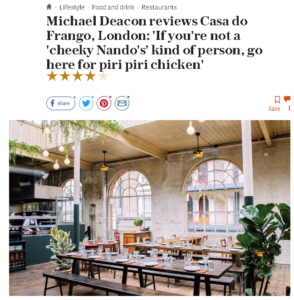 Micheal Deacon in The Telegraph also recommends a visit to Caso do Frango in Southwark, which he describes as an airy spot serving authentic Algarvian cuisine that's perfect "if you're not a 'cheeky Nando's' sort of person" but have a hankering for piri piri chicken and Portuguese wine. (****)
Matthew Bayley in The Telegraph enjoyed a trip down (gap year) Memory Lane during a visit to Xi'an Biang Biang Noodles in east London (sibling to Xi'an Impression by the Arsenal stadium), which "offers authentic regional Chinese cooking from a region that isn't represented much in Britain" – where "cumin, chilli and salt rather than soy, sugar and ­anise" are the "dominant seasonings".
It's "fairly cheap", serves "large" portions of "robust, substantial rustic cooking" in "a brightly lit, utilitarian, ground-floor space" and service is "friendly, fast and informal". The menu is "a laminated tour of Xi'an cuisine" and the food "a happy contrast of ­textures and temperatures". (***)
Marina O'Loughlin's Sunday Times review took her to Edinburgh, but "away from the bustle of Edinburgh's handsome, tourist-thronged centre"; instead, she was "following in the footsteps of some of the world's most creative chefs, hotshots from Hong Kong to Oslo". It's easy to understand why when you learn that co-owner Ben Reade was Noma's head of research and development at the Nordic Food Lab.
Formerly only a research hub ("this is food intellectualised, the spoddiest, nerdiest, most obsessive of pursuits."), Edinburgh Food Studio is now also a "regular — if also very irregular — restaurant". New head chef, James Murray is "acing that school of deceptively simple, stripped-back, produce-driven cooking" – his food is, simply, "awesome". (There's also a "wow, wow and wow" later on…)
It's "a celebration of the sheer hedonism of putting unspeakably delicious things into your mouth" – with "a sense of fun and excitement", too. Only the communal table leave Marina cold ("the only thing that stops this being an unseemly, dribbling rave") – they're just not her thing. But the locals seem to like it – "and how".
Tom Parker Bowles in The Daily Mail enjoys a few paragraphs describing the out-of-the-way, accessible-only-by-boat  beachfront restaurants he's patronised around the world, and then (rather unfairly) compares them to "wannabe beach shack" Bucket in west London – "a brutal battle zone" for restaurants, that can – and do "disappear overnight, never to be seen again".
Bucket "aspires towards distant, wave-lapped beaches", but like the most exclusive of beaches, was "almost entirely empty". The 'everything comes in a pail' concept
The best things TPB ate were the lobster, prawn and cheese toastie, which "tasted divine", and mussels which were "fat, sweet and hot". The rest? " In parts it's actually rather decent… Bucket means well. But I do fear for its future." (***)
And also…
Nicholas Lander in The FT ate at Castell Peralada in Girona, Spain: "A dish described as a 'liquid summer salad with basil and olives' seemed pure El Bulli"