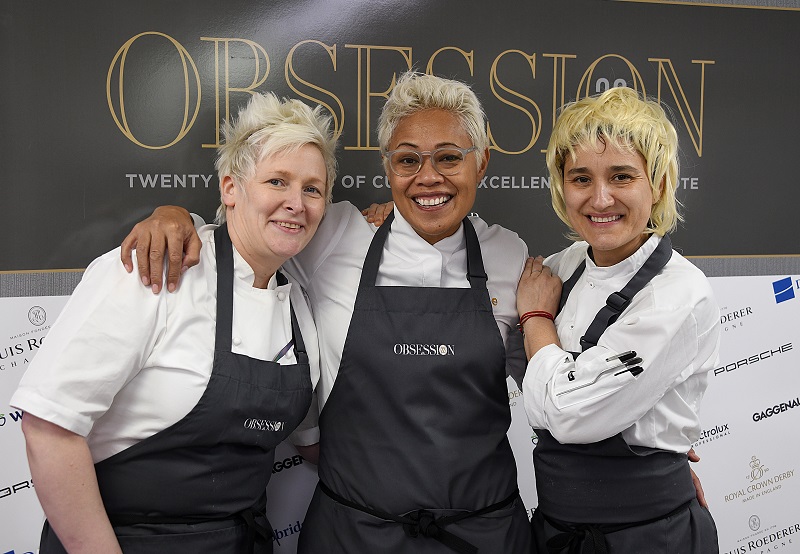 Obsession, the annual festival of gastronomy hosted by Northcote, the Lancashire hotel and restaurant, broke all records in its 20th edition which ended on Sunday with a spectacular six-course feast from host chef Lisa Goodwin-Allen and London-based guest chefs Monica Galetti of Mere and Monica Nieves of Sabor (pictured left to right).
Northcote's restaurant, private dining room and chef's table were sold out for each of the 15 nights, in a timely signal that diners' appetites have sharpened following the forced cancellation of last year's Obsession during the pandemic. Some nights, such as Tom Kerridge's, could have sold out two or three times, with would-be diners scrabbling for cancellations.
In all, 18 guest chefs supported by the Northcote kitchen brigade served 77 dishes to 1,660 diners over 15 nights, accompanied by 1,400 bottles of wine and 630 of sponsor Louis Roederer champagne – bigger numbers than ever before. In another record, £68,000 was raised for Hospitality Action.
Lisa said: "Obsession 22 was something special. The hospitality industry took such a hit during the pandemic so we were all ready to put on a show of culinary brilliance, and that we did. The vibe, teamwork and overall energy from everyone involved was outstanding. It was amazing to see people out again, enjoying themselves and the feedback we've had from everyone who attended has been phenomenal."
Given the impossibility of flying in guest chefs from around the world, the focus this year was very much on the British Isles and Ireland, with UK-based stars including Simon Rogan, Galton Blackiston and Roberta Hall- McCarron joined by Ireland-based Michael Viljanen of Chapter One in Dublin and Jordan Bailey of Aimsir in Co Kildare.
British seasonal and regional ingredients were well to the fore, with 24 different fish and seafood dishes sourced from Cornwall, the Isle of Skye and Orkney. The most popular main ingredient, hand-dived sustainable scallops, was served by 10 different chefs.
Northcote is now part of the Stafford Collection of hotels and restaurants, but is still run by managing director Craig Bancroft, co-founder of Obsession. Ambitious plans are in the pipeline for a new kitchen and restaurant as a showcase for Lisa's skills.