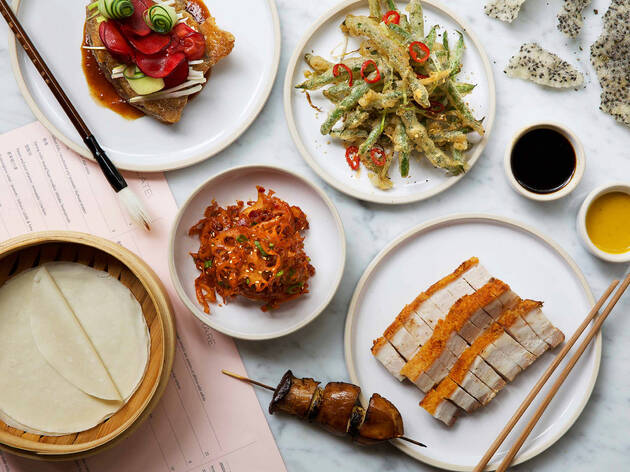 Kym's in Bloomberg Arcade is set to welcome in the Year of the Rat for Chinese New Year 2020 with a lantern installation, limited edition celebration menu, and a giveaway of 3,000 prize filled fortune cookies.
From January 13 to February 9, the interiors will be decorated with an installation of traditional red lanterns, with hundreds adorning the ceiling of the main restaurant, mezzanine level and the bar with its cherry blossom tree.
Michelin starred chef Andrew Wong has created a five-course feast to ring in the new year, available for £45. If it's as good as the regular menu, this could well be a seriously good offer.
The menu will begin with starters of prosperity salad – a Cantonese-style raw salad with salmon topped with plum sauce dressing – symbolising abundance, prosperity and vigour; followed by roasted duck jiaozi – or a vegetarian option of wild mushroom jiaozi – which are traditional Chinese dumplings; and black truffled pumpkin, salted duck egg emulsion and fermented olives.
Main courses are designed for sharing and include crispy pork belly, Iberico char sui, slow poached soy chicken; and seabass with double deluxe soy and ginger spring onion. There are vegetarian options, and desserts aplenty too.
Recent News from Harden's