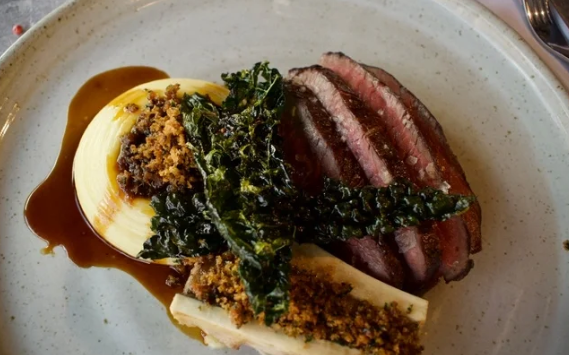 The chef and restaurateur Mike Robinson is opening a new 70 seat restaurant in Chester, on the fringe of the City Centre.
This beautiful city has gradually improved its food scene over the years, and his arrival further strengthens the local line-up.
Called The Forge, and opening on May 19, the venture will be use only British ingredients, and will have an emphasis on wild produce and sustainability. Obviously.
The open kitchen cooks over wood and charcoal, using wild and locally reared meat aged on the premises.
Oak, Ash and Beech from local forests will provide the fuel, "imparting extraordinary flavour into the beef, lamb, game and venison on the menu" according to an announcement. British fish will be used too.
This is latest collaboration with Castlebridge Hospitality, and The Forge will be set alongside the Hotel Indigo Chester on Grosvenor Park Road. The Forge is Robinson's fourth restaurant, and his third within a Hotel Indigo building. His other restaurants include The Harwood Arms in Fulham, (still going, yes) the Woodsman in Stratford upon Avon, and the Elder in Bath.
Head chef Curtis Tonge, a Chester local, will lead the team. He's a Roux Scholarship finalist, so hopes are high.
"Sustainability is so important to me in everything that I do. Here at The Forge, cooking, preparing and eating beautifully and consciously sourced free range and wild meat is as sustainable as it gets. It fits into my ethos entirely and I can't wait to show the public what it is we do here that makes us so special," he said.
"I truly believe that hospitality will bounce back, and that quality, great service and value for money will be as important post Covid as before.
"Being in such a beautiful city, like our other restaurants in Stratford on Avon and Bath, there is no doubt The Forge in Chester will have great appeal for those choosing to holiday in the UK this year, and eventually for overseas tourists, as well as our most important guests, the local business community and residents."
Recent News from Harden's