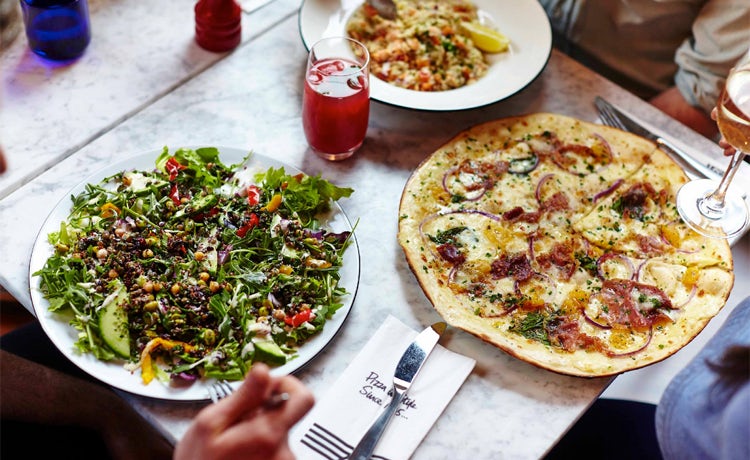 PizzaExpress has reported an earnings decline of 15.3 per cent in 2018. The company saw group turnover up 1.6 per cent to £543 million overall, but the fall in sales will worry bosses.
The slip was, in part, at least, down to the challenges in establishing itself in international markets, the foremost being China, where it has expanded heavily. Like-for-like sales in the international division were down 7.5% year-on-year.
Like Jamie's Italian, PizzaExpress has been rolling out branches overseas, where the growth story has hitherto seemed more compelling than in the crowded home market. It was this potential that attracted the 2014 acquisition by Chinese-owned Hony Capital.
Chairman and chief executive Jinlong Wang said the company had been facing "intensifying competition from local brands" in China and would be focusing on adaptation in order to better compete.
P.E. is for Private Equity where Pizza Express is concerned
In the UK & Ireland the like-for-like decline was 0.9%.
Doubtless the chain would like this to be interpreted as being down to the tough market conditions that have caused so many restaurant closures of late. But the bean-counting approach to its management since Hony took the reins has not helped.
The 54-year-old pizza chain earnt its enduring place in the hearts of middle class Britons with characterful branches and family-friendly service. Even under a succession of "money men" owners (most famously Luke Johnson) it retained a sense of having a 'soul' and building on the legacy of founder Peter Boizot.
All this has changed in recent years though. This picture is clearly painted by P.E.'s performance in our survey over the years. While the food mark has fluctuated somewhat throughout the 28 years which we have tracked it, ratings for service and in particular ambience have always been very solid.
It is particularly the deterioration of this last factor since 2014 that is the most telling indicator of the effect of Hony's acquisition.
As noted in the 2019 guide:
"More rivalry doesn't really explain its steadily bombing ratings – in particular the evaporation of the once-excellent ambience since Hony Capital took charge.
"In this regard, cynicism seems justified: "my favourite branch has been ruined by the greedy private equity owners cramming in small tables so that the atmosphere is as delightful as rush hour on the underground. Such a pity – as it was so good for so many years".
One thing you could not accuse the chain of, though, is standing still, with a new look recently rolled out at its revamped branch opposite Broadcasting House; and with an emphasis on becoming more "drop-in" with sliced pizza served at a central bar.
PizzaExpress other initiative is to take the fight to more café-style brands, with its new 'Za' concept, which launched recently in the City on Fenchurch Street.
Za concentrates on pizza by the slice, coffees, cafe food and easy, ready to go on the move snack food.
It sounds a bit Pret meets pizza. Coming soon to an airport food court near you…?
Recent News from Harden's