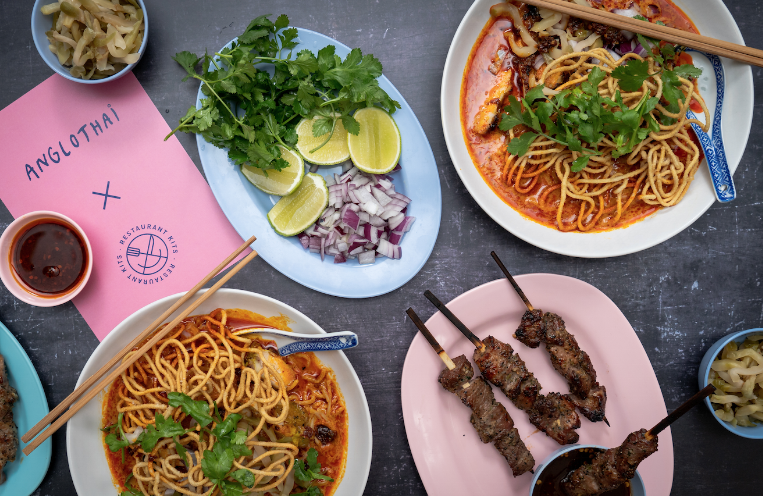 AngloThai co-founders John and Desiree Chantarasak have partnered with the new DIY 'makeaway' platform Restaurant Kits to create a finish at home box to celebrate Songkran, the Thai New Year that takes place between April 13-15.
Included in the kit is 'khao soi', Chiang Mai's famous curried noodle dish made with aromatic curry paste, dry spices, and coconut cream. The dish comes with handmade noodles, chicken thighs marinated in a blend of turmeric, coriander root and palm sugar, crispy fried noodles, sour pickled mustard greens and a roasted chilli oil.
The box also features 'mu ping' pork skewers with a tamarind and chilli 'jaew' dipping sauce, traditional Thai spoons and chopsticks for eating 'khao soi' curried noodles, and a playlist of Thai molam music.
AngloThai Singkran boxes are available from Restaurant Kits and are recommended to feed two at a retail price of £38. The boxes will be available in limited quantities from Friday April 2 (today) here with home delivery to postcodes nationwide.
It is another bold statement of intent from Restaurant Kits, which has so far come out with the likes of the Ribanator from founder Tom Griffiths, as well as kits from a number of other top chefs and restaurants.
Gordon Ramsay, Flesh & Buns, Mac & Wild, Kricket, Calum Franklin, and Super Ya Ramen are just some of the names involved.
Of all the lockdown launches, Restaurant Kits looks like a strong contender for longevity, operating as a centralised kitchen that caters for businesses – it is, quite possibly, the future of high-end at home DIY dining.