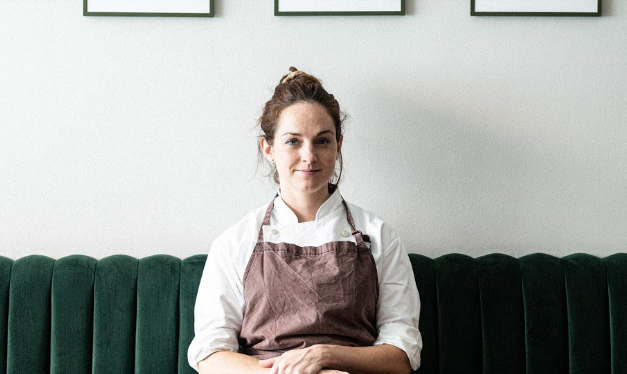 The Dorset-based chef Harriet Mansell will open a new wine bar and tap room in Lyme Regis in July.
Lilac will be a 40-cover fixture in the coastal town, focusing on low intervention wines and small plates. It will, says the team, "echo the ethos of Harriet's debut restaurant Robin Wylde, which shines a light on the quality and abundance of West Country produce, wild and foraged ingredients."
The fact Mansell's first restaurant, which she opened in the throngs of the pandemic in October last year – and on a small budget – remains, and a second is on the way, is testament to the concept's charm. Early reports, we hear, have been good, though reporters have yet to garner enough experience for us to have a full listing in the guide.
Lilac will sit in a 400-year-old cellar space on Lyme's famous Broad Street, and will offer a selection of wines sourced from small-scale Dorset vineyards to include the Furleigh Estate, Sharpham, Castlewood, Dunleavy & Limeburn Hill, as well as Langham Winery in Dorchester.
A continuously changing menu of seasonal small plates will accompany the drinks, with a focus on vegetables, zero waste and sustainability.
Example dishes include tempura sea vegetables with smoked roe, elderflower and mint; mackerel crudo with watercress oil and pine vinegar, as well as lobster on the fire with strawberry, rose and verbena. Freshly baked breads with house charcuterie and cheeses will also be on the menu.
Mansell said: "Lilac has been a long time in the planning, and with the lifting of lockdown restrictions and a general sense of optimism in the air, now feels like the perfect time to bring something completely new to Lyme.
"The name Lilac not only evokes those hopeful connotations of springtime, but we like to think of it in terms of a Lilac haze; a special sort of atmosphere that comes when heading into an evening of frivolity, that feeling when you know something good is about to happen.
"We are so looking forward to growing the Robin Wylde family and to continue sharing in the incredible produce our local winemakers, growers, fishermen and farmers work tirelessly to produce all year round."
Robin Wylde, Harriet Mansell's 26-cover restaurant located a two minute walk from Lilac on Silver Street, will reopen on May 19. Here, Harriet serves a single, 10-12 course tasting menu with a strong focus on the area's array of seafood, alongside wild and foraged ingredients.
Recent News from Harden's