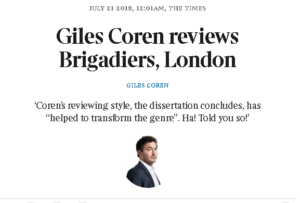 An amusing side-note (well, actually, most of the article) in Giles Coren's Times review of Brigadiers this week: a University of Glasgow student has completed a comparative dissertation on Coren's reviewing style compared to another critic he doesn't name (to be known as critic X, in order to keep the attention on himself).
The insightful lady describes Coren's reviews as "entirely egocentric" (the main three words he uses are 'restaurant', 'I' and 'my'…) but says he has "a distinctive reviewing style which has perhaps helped to transform the genre". He's just not going to get tired of repeating that…
Eventually straying into the territory for which he's paid, Coren describes Brigadiers ("lavishly embedded into the ground floor of the Bloomberg building at Bank") as "a shameless raid on the City boy pound… all very shiny and plush and Dubai-like".  This aside, the food is top notch: "Everything these guys do is poetry… top-quality proteins cooked perfectly with sauces of such depth and complexity, brightness and colour".
A tongue-in-cheek 'critic-X-style' description of the dishes follows, with the conclusion that  Brigadiers is "a whopping great, beautifully turned out, superflash temple to the religion of "curry night"… just happens to serve some of the best Indian food in the country".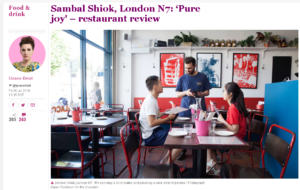 Grace Dent for The Guardian experienced "pure joy" in Highbury ("an area where family dining truly thrives"), at laksa bar Sambal Shiok (26/30) where she feasted on authentic Malaysian laksa, "one of the greatest comfort foods on Earth" prepared with "patience and precision" by chef Mandy Yin ("something of an emerging national treasure").
The "small, powerful, all-hits menu" caters for all,  "pleasing a wide array of palates, both newbies and aficionados". The signature laksa is a "hot, sunset-coloured, shrimpy, umami, soupy face-slap of a bowl". It's even available for vegans, – "unfathomably good", thanks to Mandy's "shrimp-free secret vegan laksa paste" – served with tofu puffs that Grace describes as "cloud-like flavour magnets".
There was also an Assam fish curry that was "excellent" and "fiery", gado-gado salad that inspired that "pure joy" and a vanishing trick with fried chicken. Sambal Shiok may be small, but it "was a lot of fun" and should expect to be very busy with visits from more than just the locals… "There is more in this country that unites us than divides us, and it's never more evident than at dinner."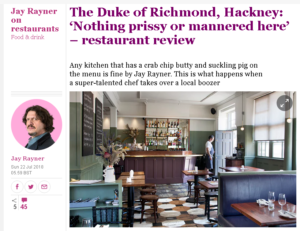 For The Observer,  Jay Rayner headed east, to Hackney and The Duke of Richmond where he admired "the luscious, greedy, thigh-rubbing instincts of a kitchen that puts a crab chip butty on the menu". The butty itself is described as "mindfulness incarnate" – food that makes you stop thinking about anything else and focus on just eating.
So The Duke of Richmond, newly taken over by Tom Oldroyd, is clearly something special: "just a neighbourhood pub in the way Buckingham Palace is just a house". It's decorated "in shades of olive green and off-white, as if it's one huge piece of Victorian creamware" and ostensibly divided into bar and dining area. And the food? "British ingredients cooked with an utterly convincing French country accent" at "standard smart gastro pub" prices. From start to finish "there is nothing prissy or mannered" about the place.
But, as Jay notes, fantastic as this place is (he's particularly excited about the idea of a whole roast suckling pig, available to those with enough friends gathered on a Sunday), it's undoubtedly "a mark of where restaurants have got to, that the solidly reliable food pub is no longer worth much comment".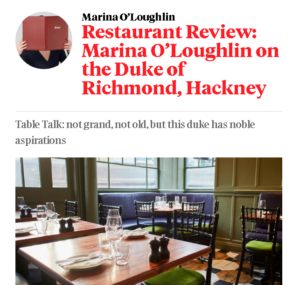 In an embarrassing clash of the Sundays, Marina O'Loughlin also reviewed The Duke of Richmond for The Sunday Times and agrees that the menu is "quite sexily French" and is intrigued by the chef "who generates enormous swells of goodwill among London's restaurant fans". But even though her meal had considerably more 'misses' than Jay's (were the chips frozen, or just cleverly made bendy?), she came to a similar conclusion: it's "a fun place to be, to eat interesting food and drink decent wine with a pal". Not a destination, maybe, but somewhere new to go for solid, reliable food. Which is no bad thing at all.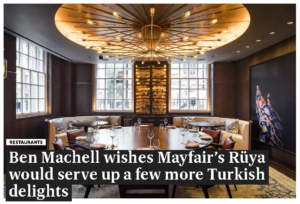 In The Evening Standard, Ben Machell  visited Mayfair newcomer Ruya  (6/10), and found the Anatolian cuisine "highly wrought yet oddly prissy".  He left wishing  there'd been more Turkish delights, like his favourite Dalston kebab shops. The chef's special, sashimi sea bass, was buried underneath a "gloopy royal rumble of ingredients", not the " fresh and breezy" dish he was anticpating.
Ruya is decorated like "first class on a 1930s Black Sea cruise liner" (he kept expecting Poirot to pop up and investigate a murder), and the staff are " relentlessly attentive". But nothing sparkled, not even the famous 'chicken dessert', which was really just a "wobbly, milky, praline flavoured mound".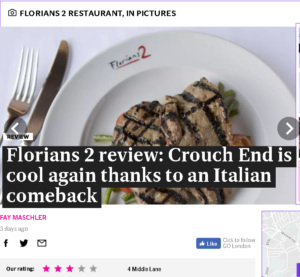 Also in the Standard, Fay Maschler went back in time with a visit to Crouch End's Florians2  (***), back after a 10-year absence.
It's "a place where regulars are cossetted" (although Fay archly notes she didn't feel cossetted… or maybe just wasn't recognised? On a repeat visit, after waving her credit card, she was "warmly welcomed"…)
The two signature tagliatelle dishes of lobster ("see-through strands of dough and a rich sonorous sauce") or broad beans, cured pork cheek and pecorino are highly recommended. On her second visit, she lunched with Max Halley, of Max's Sandwich Shop, who approved the 'original' steak sandwich. Both of them liked the "built to order" tiramisu (who wouldn't?).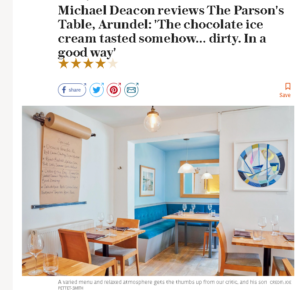 Micheal Deacon in The Telegraph visited The Parson's Table, a "quiet and secluded and restful" family-run Arundel restaurant which has "built a fine local reputation" in the three years since opening.
He ate the rump of New Zealand lamb ("full and hefty") while his young son had a child's portion of cod from the "good range of fish" on the menu.
West Sussex strawberry sablé for dessert was "gorgeously jammy". He gave the whole experience four stars. His son's rating? "Good."
Also in The Telegraph, Keith Miller was at Bright (****), despite not quite 'getting' the name. He made a point of sampling the pasta, given that P Franco (Bright's
big brother) specialises in the stuff. His agnolotti with chicken livers was "quite excellent. As, indeed, was pretty much everything else". Much of the food calls for a "handsy approach", including the much-Instagrammed 'katsi sando', which gave off "a certain Aussie/Pacific Rim vibe"; "puddings were outstanding".
Within the ever-changing menu, Keith detects a "a particular kind of simplicity" – yes, there's "a lot of ageing and fermenting and culturing" and "a lot of thought", but also "a lot of originality and judgement, trying and testing".
And, no, he's "still not feeling the name": "it just feels unworthy of the place: a little drab, paradoxically enough, like a lame Nineties band name".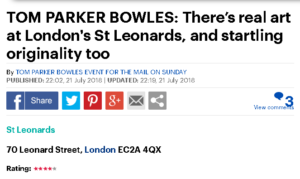 Tom Parker Bowles for The Mail on Sunday has his finger on the pulse again – a few weeks ago, he was at Hide, now its St Leonards (****), where he lunched with a reluctantly impressed Rowley Leigh. Inventive ingredient combinations (foie gras custard, anyone?) and a surreal tone set by "vast, bearded Vikings in the kitchen" plating up "incredibly dainty dishes" made for a meal that was never boring.
The review is liberally peppered with gushing, catch-all statements: "flavours are immaculately balanced but never over-complicated"; "poise and subtlety when needed, but then no fear of going balls-out on the big flavours"; "there's real art here, and startling originality too"; "classic cuisine, yet thrustingly modern". His grumpy dining companion was less verbose, grudgingly admitting the meal was "not bad at all".
In another clash of the critics Tim Hayward for The Financial Times also gushed at St Leonards, declaring that "if your menu choice is right, it's a meal you'll remember your whole life".
Recent News from Harden's