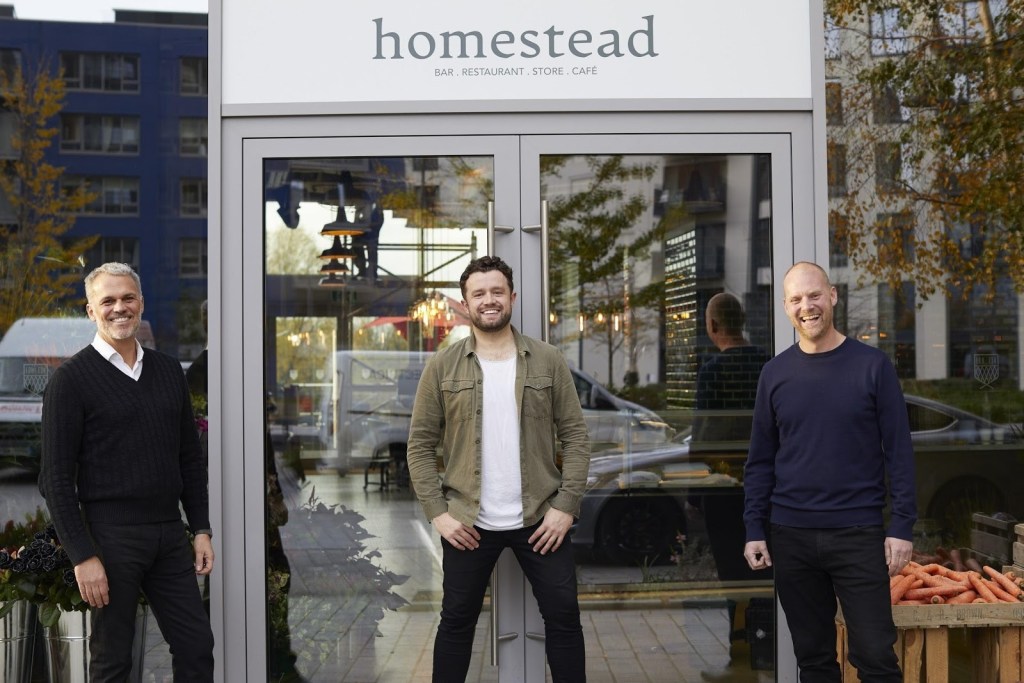 Sven-Hanson Britt, finalist on MasterChef: The Professionals, has opened Homestead at London City Island, on Leamouth Peninsula.
A takeaway, deli, and grocery store for lockdown, the site will also house a restaurant and bar once restrictions have been lifted.
Britt opened the concept with director of operations Scott Ward and brand director Tris Hillier. James Durrant, formerly executive chef at Game Bird at the Stafford, heads up the kitchen.
The counter sells meats, homemade pasta, cheese, and fish, all ethically sourced from British day boats, high-welfare farms, and small artisan producers.
Takeaway food currently includes pies, salads, quiches, curries, and cured meats.
Hot and cold sandwiches are also available, including a chicken Kiev sandwich with raw cabbage and Caesar dressing, and banh mi with crispy roast pork belly, ham and chicken liver terrine, pickles, chilli, and coriander.
Britt said: "The East London food scene has completely changed over the past few months, meaning everything we knew before about eating out is now different. My family and I have moved to City Island, a hub of creativity and artists in need of a great food offering.
"Whilst in the pre-opening phase of Oxeye, we had time to think about how to launch a different style of business here at City Island; something that is solely focused on delivering the very best ingredients to our community.
"It's all about provenance, the story, the ethics and the traceability behind the products. Ultimately, Homestead is all about community, which we will contribute to by delivering something meaningful to our ever-growing family of neighbours here in East London."
Hillier said: "Despite the current lockdown measures we actually feel it is a great time to launch Homestead as everyone is at home. It's a fantastic opportunity to meet everyone and so we are looking forward to launching."
Ward added: "Homestead is a place that we would be excited about visiting ourselves, with our friends and family. The team we have put together is amazing; we feel very privileged to be able to hire people during this difficult time for UK hospitality, and buy direct from farmers, fishermen and growers who need our support more than ever."
Recent News from Harden's