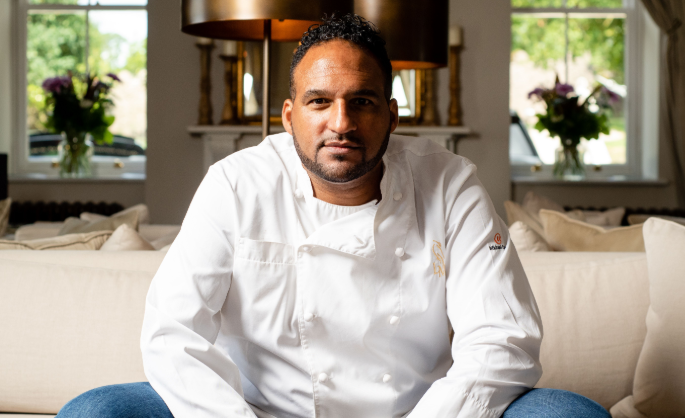 Michael Caines has revealed plans to open two new restaurants in Exmouth in March next year.
The chef has set his sights on Exmouth's multi-million pound Sideshore regeneration project, where he intends to launch Mickeys Beach Bar and Restaurant, as Cafe Patisserie Glacerie alongside colleague and pastry chef Sylvain Peltier.
Mickeys will contain a casual bar and resident weekend DJs, with a restaurant on the first floor featuring a retractable glass terrace with outside seating.
Typical to Caines, who's best-known for his Michelin-starred Lympstone Manor, the restaurant will serve seasonal produce sourced from the South West.
It will also commit to banning the use of single-use plastics and will harness renewable energy where possible alongside sustainable materials.
Caines said: "Mickeys has been in development for five years and I am so excited to see the building finally come to life. The interior space, designed with Design Command, is fun, vibrant and in tune with its surrounds and has the most remarkable views across the bay of Lyme.
"Mickeys will be a place to celebrate, to unwind, to pop in for a takeaway or stay late into the night, underpinned by warm hospitality and excellent food. It is a space for the local community and beyond, above all it's a place of fun. I'm incredibly excited to be able to share more over the coming months as we approach the opening."
Next door will host Caines and Peltier's Café Patisserie Glacerie, serving French pastries, house-made gelato ice-creams, coffee and milkshakes, as and hot pies and Cornish pasties.
Peltier added: "I am proud and excited to be opening with Michael our first Café Patisserie Glacerie on the beautiful Exmouth seafront. This has been a dream of ours for the past 15 years and seeing the project come together is mind blowing. Being able to share your passion with others is an invaluable gift and we cannot wait to soon share it with you all."