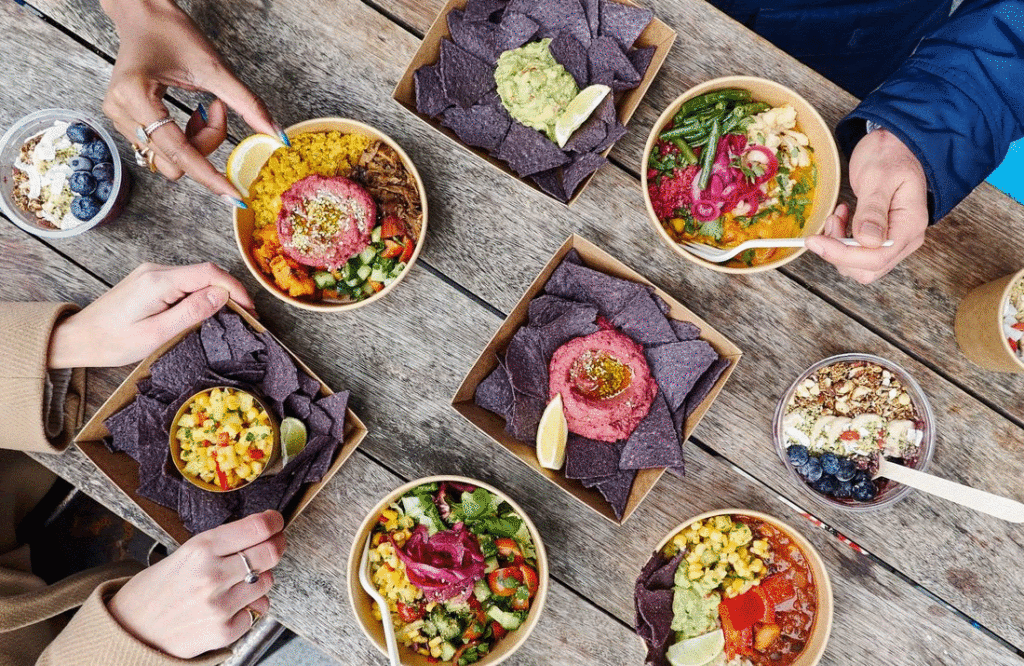 Despite the ongoing turmoil in the restaurant industry, openings are still underway in some quarters.
Sidd Bhat and Isabelle Chen have just launched Bema, a yellow pod serving takeaway, high protein plant-based food to people on the move.
The bowls will take inspiration from the flavours and ingredients found across South America, Indi,a and the Middle East, changing seasonally as they spotlight different cuisines.
Located in the heart of Bishops Square next to Old Spitalfields market, Bema opens first thing in the morning, serving breakfast to commuters, before moving onto lunch for workers in the City.
Dishes on the menu include lentil and chickpea coconut curry with beetroot infused quinoa, turmeric roasted cauliflower, crunchy French beans and topped with pickled red onions and fresh coriander; smoky chilli of red kidney, haricot and black beans on top of brown rice accompanied by guacamole, sweet corn and pineapple pico de gallo, marinated red peppers and blue corn tortilla chips for dipping; and roasted king oyster mushroom shawarma with turmeric infused quinoa, cucumber, tomato and parsley salad, coconut oil roasted sweet potato topped with earthy beetroot hummus and a sprinkle of dukkah seeds and olive oil.
Drinks include coffees, smoothies, and "health boosting" drinks – which couldn't be more pertinent.
"Having worked in finance for a number of years, I found it difficult to find healthy, plant-based food on the go, I craved something quick and easy without compromising on flavour and nutrition. This is what led to us creating bema, we want to show that plant-based need not be bland and can be packed full of protein too," said Sidd.
"We both share a love of travel and spices so this has really shaped our menus here at bema. We're excited to bring our flavour-filled bowls and a splash of joy to London with our yellow pods," says Isabelle.