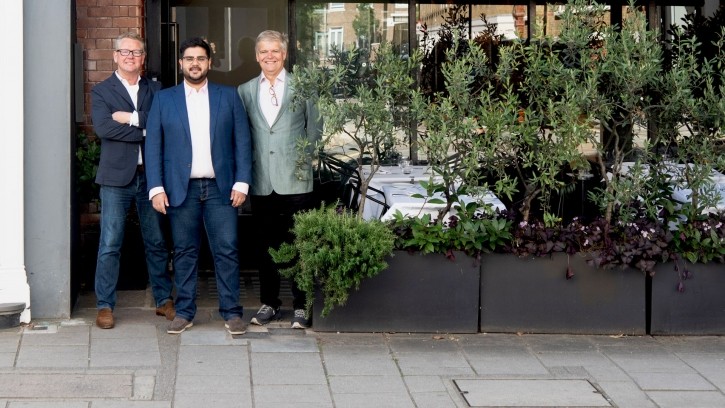 Chelsea's Enoteca Turi, famous for its list of Italian wines, has been acquired by a trio of industry professionals, allowing founders Giuseppe and Pam Turi to retire after 33 years at the helm.
The new owners (pictured) are Dominic Ford (formerly Harvey Nichols restaurant & food director, and before that of L'Escargot) and Krishan Katyal of Restaurant Inc Ltd, in partnership with David Gleave, the longstanding managing director of Clapham-based supplier Liberty Wines.
Giuseppe, who was born in Puglia and trained as a sommelier at the Athenaeum and Connaught hotels, opened the trattoria on Putney High Street with his wife Pam in 1990, assembling a famous cellar of Italian wines over the years. In 2015 they moved the Enoteca to new premises near Sloane Square in Chelsea, where it was described in the 2023 Harden's guide as "phenomenal", winning a rare 5 out of 5 rating for service.
Speaking for the new owners, Dominic said: "We are excited and honoured to be the new owners of one of the most iconic Italian restaurants in London. It is an extremely unusual opportunity to be able to take over a restaurant with a 30-year heritage and we feel privileged that Giuseppe and Pam are trusting us to continue their good work."
David Gleave added: "When Dominic approached me to join the team to acquire Enoteca Turi, I had no hesitation to have the opportunity to inherit and be the custodian of what I believe to be one of the best and most celebrated Italian wine lists in London. Giuseppe has bought extremely well over the years, which will help to maintain the extraordinary selections of fine Italian wine and continue with the competitive pricing and value moving forward."
It is understood that Enoteca Turi's general manager Danieli Siro and head chef Giampiero Giuliani will be staying, while initial changes will focus on reviving lunchtime trade, with a lighter offering during the week and a more family-friendly approach on Sundays.