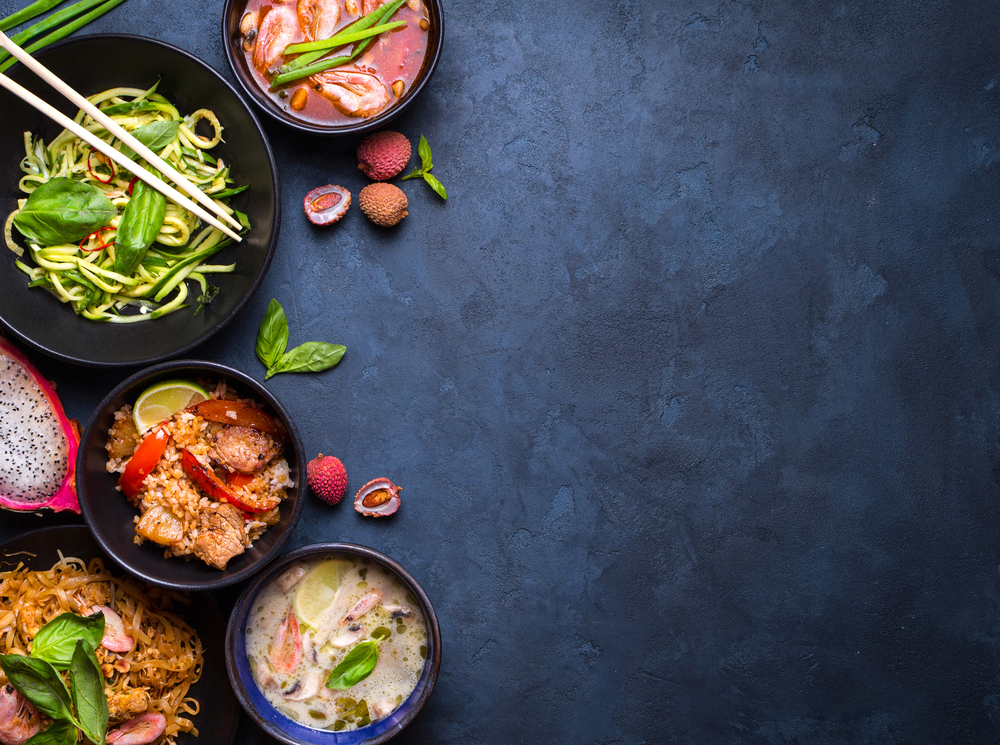 With Songkran (Thai New Year) around the corner, 13-15 April, we've decided to bring you a list of the top 10 places to get an authentic taste of Thai cooking outside London, according to our survey. Still one of our reporters' favourite cuisines for a cheap eat that packs a big punch…
*Just in case you missed the news last month,
Siam Smiles in Manchester
has sadly closed (RIP), which is why it is missing from this list.
"The warm peanut sauce is to die for… the silken super aubergine curry so yummy" – this "cramped and very informal" café serves "the best Thai food in Oxford by a mile" offering dishes with "just incredible tastes" and "their cult status hasn't gone to their heads". ("What sets Oli's Thai apart is the authentic home cooking found in Thailand: the massive flavours, the use of herbs and spices, and above all the consistency"). "If you can get a table (a BIG if!), it is well worth the time it takes to wait for one!"
The "best Thai around" is a "popular, bustling, pleasant" sort of place, which – even after 40 years – retains the locals' favour owing to its "good cuisine".
This Spinningfields branch of a 10-strong national Thai chain is the most commented-on in the group, and wins consistent praise for its "buzzing" style and also (mostly) too for its "fantastic" street food dishes.
"Watch the cooks behind the glass" in the kitchen, at the original Chapel Allerton branch of this Thai chain – now fifteen years old – which is nowadays expanding beyond its Yorkshire origins. Limited feedback this year, but fans say it's "the best Thai in Leeds".
This swanky, two-floor outpost of the UK-wide Thai Leisure Group has built up quite a name for its "always excellent" and "refined Thai cuisine" and an all-round "pleasant experience".
"In a location more reminiscent of a Tudor tearoom" than one befitting its Thai menu, this "quirky" and "busy" ("cramped and noisy") staple in a medieval building down a passageway off the High "remains a delight". Its classics dishes may "have lost the epic qualities they had a few years back" ("nice but veering unpredictably from the bland to the very spicy"), but "it's still better than other Asians in the very centre of town".
Fans praise the "to-die-for Thai" food and "fabulous views" at this "very noisy" venture, in a bizarre setting atop a multi-storey car park; for critics, however, "in many ways it's a pretty standard" operation… although even they add "but what a view!"
"A really busy and bustling venue reminiscent of eating on the side of a Bangkok backstreet" (but in reality set in the Grand Arcade in the city-centre); it's "great fun" its Thai street food is "yummy", prices are "cheap" and "it's always an experience".
Even those who say its "prices more restaurant than pub" hail this "Thai in an old inn" for its "amazing quality and imaginative creative cooking". "I have just one complaint: it's a 40 minute drive away!"
"Always a winner for exceptional Thai food in a warm, inviting atmosphere", a city-centre option acclaimed by most (but not quite all) reporters for its "consistently good" cuisine; "shame they have dropped the fixed-price lunch menu," though.
Is there a Thai restaurant in your area that you feel deserves to be on this list? If so please tell us about it by taking part in this year's Harden's survey. Find out more.
Recent News from Harden's