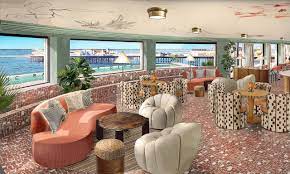 Members'club Soho House is to open a new branch on the Brighton seafront this month. 'Little Beach House Brighton' will be the first venue on the British coast for the group founded in Greek Street, Soho, in 1995 which now has 28 branches around the world from North America to Hong Kong.
Founder and chief executive Nick Jones said: "So many of our existing members live in Brighton, so it seemed like a natural step to open a local House in the city. It's a brilliant place, full of the progressive spirit that our members love."
The new venue is in a Grade II-listed terrace with views over Brighton Pier, and features a Cecconi's northern Italian restaurant and a terrace pool with a mosaic banana designed by David Shrigley at the bottom. The club house will display work by more than 100 artists connected to Brighton, and pays tribute to the city's reputation as a "historical beacon for the queer community" with a collection of work by international LGBTQ+ artists. Fabric used throughout was commissioned from Miranda Forrester, a recent graduate of Brighton University whose artistic practice "explores the queer black female gaze in painting".
Soho House is believed to have more than 120,000 members around the world, with tens of thousands more on its waiting lists. US billionaire Ron Burkle owns about 60% of the company, with Richard Caring of Caprice Holdings on 30%. Jones retains a minority holding.