Brace yourselves Covent Garden! Big Mamma is set to open a vast new 'maximalist' Italian on June 25.
Big Mamma is known for its outlandish, extravagant, indulgent style, and this will be no exception. Following on from the Instagram-popular Gloria and Circolo, which are both adorned fancifully with ornate decoration, Ave Mario will take the vibe yet further, with a skylight in the green- and white-striped dining room – a riff, we're told, on Sienna's famous "zebra" cathedral.
The site – with 7,000 square feet and 295 covers – is newly created. It comes from bashing together 29-30 Maiden Lane and 15 Henrietta Street. (The Henrietta Hotel – at 15-16 Henrietta Street – is not going anywhere and is sandwiched in front of the new space.)
Set over two floors, with two outside terraces, it's aiming for a 'cheeky interpretation of the Church'. Apparently that means a bar decorated with 3,500 bottles, and a mirrored, 70s-tastic basement for events.
The cooking? How did we nearly forget?! Big Mamma said it will be an "osteria" in feel. If not in price. So loads of cream, probably, and quite a bit of pizza and pasta. In this case, the must-instagram dish will be a gynormous stracciatella and chocolate ice cream cake.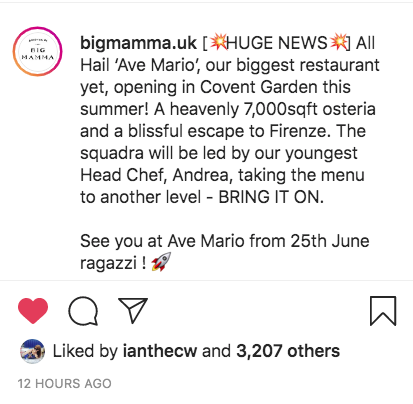 Recent News from Harden's