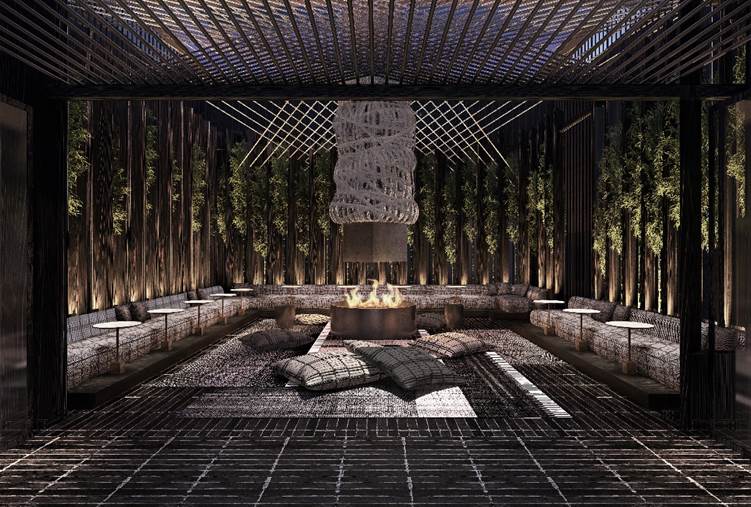 A new hotel called The Londoner, described as "the world's first super boutique hotel", will launch in September, and will unveil six "unique hospitality offerings that will honour and re-shape the legacy of the West End".
Created for a new world era, concepts will include Whitcomb's, The Stage, The Residence, Refuel, 8 at The Londoner and Joshua's Tavern.
Spread across 16 floors, the "luxury urban resort will offer an exclusive, cosmopolitan playground that unites the aristocrat and the libertine with a range of day to night experiences".
They go on: "From pool-side relaxation to raucous yet sophisticated lobby bar entertainment and world-class rooftop dining, The Londoner will offer a refined escape for Londoners and guests alike."
Here's press spiel on the restaurants:
(if you want the short version:
8 at The Londoner * – World-class Japanese rooftop dining & cocktails
Whitcomb's – day-to-night Brasserie & Bar
Joshua's Tavern – Neighbourhood pub & gin bar
The Stage – a Champagne-centred breakfast, tea and caviar spot
The Residence – a private club and whiskey bar, for residents only
Refuel – all things wellness, from post-workout smoothies to fresh and healthy poolside snacks)
Long version…
8 at The Londoner
Located atop The Londoner with a breath-taking view of the city is its decadent rooftop izakaya lounge, 8 at The Londoner. Presenting a palette of world-class modern Japanese cuisine, innovative mixology, and dramatic design, 8 at The Londoner is timeless yet contemporary, and will showcase a blend of the finest ingredients and expert traditional techniques, creating a sophisticated experience above the capital's most iconic neighbourhood.
Offering wonderful transitions of both in and outdoor dining, 8 at The Londoner features a chic lounge area with a firepit at its centre, a Japanese-inspired minimalist terrace, playfully blurring inside and outside with retractable skylights, and glimpses of the city's silhouette, as well as a breath-taking Shima Garden.
The menus at 8 at The Londoner offer simplicity, elegance and finesse, and will feature intricate Japanese inspired small dishes and signature plates, an extensive robata offering with meat, fish and vegetarian options, and a moriawase section with tartare, sashimi and sushi rolls on offer, all headed by 8 at The Londoner's Head Chef Kuenhi Won, previously of Nobu. Out in the Shima Garden, a more refined selection of small eats will be available, as well as a selection of gyoza tacos, including one with grilled lobster with chilli and cilantro.
The drinks selection at 8 a The Londoner will include an impressive Champagne and wine selection, as well as a list of reserve sake, exclusive Japanese whisky, and a creative and explorative cocktails selection created by The Londoner's Head Mixologist Pierpaolo Schirru.
Whitcomb's
The signature restaurant of The Londoner, is located on the ground floor, with both street and hotel access and a terrace overlooking the hustle and bustle of Leicester Square. Whitcomb's will offer guests an escape to the Mediterranean in a light and artistic setting.
The seasonal, a la carte menu created by Executive Head Chef Shailesh Deshmukh will transport diners to sunnier climes while evoking the essence of contemporary French cooking, with influences from surrounding Mediterranean cuisines. The menu will feature dishes such as a classic escargot with white wine, garlic and n'duja lemon butter; and seared filet mignon with chanterelle and aged Parmesan crème. Diners can also experience a petit déjeuner, a pre-fixe menu available for lunch or pre theatre, with fresh bread from the oven, à la carte selections and four 'spécialités', including grilled lobster with cognac.
Working closely with local suppliers, Whitcomb's will offer a number of hand selected meats unavailable anywhere else in the United Kingdom. To accompany, a reserve wine list will showcase a coveted collection of wineries from across the world, paying special homage to France's inimitable terroirs.
Joshua's Tavern
Situated on the corner of St Martin's Street and Orange Street, Joshua's Tavern will serve as a neighbourhood drinking spot specialising in terroir-led gintonicas. The venue's namesake, 18th-century portrait artist and Leicester Square local, Sir Joshua Reynolds favoured gin above all else and The Londoner team have taken inspiration from his love of the spirit and created a menu that honours and innovates.
Reminiscent of the drinking dens Sir Joshua would have frequented in the area, Joshua's Tavern will be a new hub for the creative communities around Leicester Square and a watering hole for like-minded professionals. The drinks menu at Joshua's Tavern will feature over 50 regionally sourced gins, with each going through a five-stage matching process. Led by The Londoner's Head Mixologist, Pierpaolo Schirru. Each match includes a unique combination of garnish, house-infused bitters and tonic, to harmonise, elevate and compliment the botanicals, led by the nuance of the spirits' terroir.
Offering the opportunity to try early expressions of dry gin, there will also be a selection of vintage gins available, with some dating back to 1950. Alongside gin, Joshua's Tavern will also serve a selection of copper tank beer, wines and a selection of other spirits.
To complement, a selection of Tavern Tid-Bits including Roquefort-filled biscuits and 'nduja and Taleggio pastry bakes lend themselves to the food menu, to be enjoyed amongst locals and visitors alike.
Championing Leicester Square's historic position as a hub of entertainment, art, and music, Joshua's Tavern will also be programming a curated line-up of live musicians to ring in the evening each night.
The Stage
Radiating from the lobby of The Londoner is The Stage, featuring an all-day programme of menus centred around the luxury, glamour, elegance and sophistication of its headliner, Champagne. The Stage's offering brings about a fusion of classicism through coveted vintages, prestige cuvées and the finest ingredients with a cosmopolitan and modern attitude, fitting of The Londoner's central London location and state of the art design.
The food and beverage programme at The Stage will begin with a Champagne breakfast, followed by The Londoner's Champagne Afternoon Tea and rounded off with The Stage's Grand Finale, which will see tables dressed with the most luxurious of rarities, including seasonal rock oysters, Oscietra and Beluga caviar, charcuterie and artisan cheeses, once again complemented by Champagnes from The Stage's informed list of cuveés.
The Stage's design presents a synergy of opulence and avant-garde, both intimate and seductive, whilst open and inviting, featuring accents of cream and gold, low-level comfortable armchairs, and chic bar dining. The Stage will also feature a curated entertainment line-up.
Refuel
Complementing The Retreat, The Londoner's 24-hour gym and wellbeing area, is Refuel, a sanctuary hidden beneath Leicester Square, offering an escape from the stresses of daily life and a food and beverage designed to refresh, recharge and rejuvenate. Perfect for gym-goers, poolside wellness or dietary regimes, the Refuel clinic will be open only to hotel guests, members and day spa guests.
Available to-go post-workout, perched at the bar or in a secluded cabana, the offering at Refuel will include detoxifying smoothies, beauty juices, nourishing body wraps, and Ayurvedic morning ritual bowls, among other delicious and vibrant options.
Recent News from Harden's