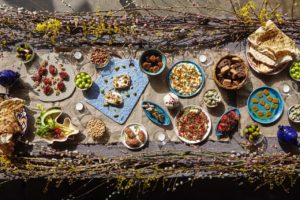 Sam and Sam Clark of Moro and Morito are launching a brand new bespoke outside catering company, Casa Moro, and new private dining room space in Hackney Wick, open in May this year.
Sam and Sam Clark opened their epic Exmouth Market "institution" 20 years ago, with its "scrumptious" little sister restaurant opening in 2010 and Morito Hackney Road launching in 2016. Now they are branching out with the launch of Casa Moro, offering Moro and Morito's unique Spanish, Middle Eastern and Cretan flavours, created and cooked by Morito head chef Marianna Leivaditaki, and her team.
From stand-up tapas, to serve-yourself feasts and sit-down banquets, Casa Moro will cater for events including special dinners, family celebrations, weddings, canapé receptions, corporate functions and festivals.
Sam, Sam and Marianna, have created a selection of sample menus taking inspiration from classic Moro and Morito favourites. Sample dishes are below and prices range from £35 to £50 per person, depending on the menu type. The menus can be adapted to the customers' taste and what seasonal produce is available, ensuring exceptional produce is served year- round.
Sit-down menu: Seared scallops with cauliflower puree and crispy panceta; or seared Galician beef with barley, grapes and sumac; slow cooked lamb tagine with jewelled rice, sour plums and seasoned yoghurt; or whole baked seabass with tomatoes and olives; yoghurt cake with pistachios and pomegranates.
Tapas/Mezze standing menu: Humous with spiced lamb and pine nuts; Labneh, chickpeas, dukkah, chilli butter; Salt cod croquetas with alioli; Lamb chops, paprika and anchovy butter; Cheese fritters and Cretan thyme honey.
Casa Moro will offer an extensive wine list from Mediterranean vineyards, alongside a whole host of sherries, vermouths and cocktails. It will cater for large events and is already booked to feed the most discerning art crowd at Frieze London for the second year in a row. From 2011-2016 Moro has catered for large crowds at The Wilderness Festival feasts, serving thousands in their Moro souk tent.
The Clarks are also launching a private dining room space in Hackney Wick East London for up to 40/50 seated guests, or a drinks reception for up to 60/75 guests. The space also has a terrace overlooking the River Lea and Queen Elizabeth Park, perfect for drinks receptions and summer barbeques. Casa Moro will take care of cooking the food, serving the food, and clearing up!
Casa Moro will also host a selection of one-off ticketed events at the new Hackney Wick space throughout the year, launching with an exclusive Moro Mangal dinner party hosted by Sam Clarks and Marianna Leivaditaki on Friday 1 June and Saturday 2 June. Drinks will be served on the outdoor terrace whilst Casa Moro prepare the food over the open fire, followed by a sit down dinner indoors.