Harden's is hosting the inaugural dinner of the International Wine & Spirit Competition's 'Club Oenologique' at Belgravia's famous – and dazzling – Mosimann's Club.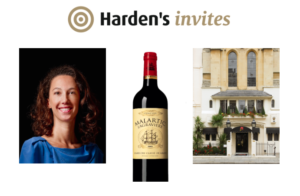 Tickets were released last week and the event is already nearly sold out.  So do get in touch today if you would like to secure one of the few remaining places. 
The evening will combine some of Bordeaux's finest wines with a matching menu from the kitchen of renowned chef Anton Mosimann. Wines will be sourced from the great Chateau Malartic Lagravière and introduced by the property's owner, Severine Bonnie.
Mosimann's is one of the world's finest private members' clubs, its intimate dining rooms housed in an old Presbyterian chapel off Berkeley Square in Mayfair.
The grandeur of the place will suit perfectly the Bordeaux wines, with many on the evening's list among the most revered vintages of the 1900s.
Although the club has never featured in Harden's (which omits members-only establishments), it is one of the few members' clubs that consistently inspires a high volume of feedback in our annual diners survey. Were it included, it would have had some of the highest ratings in London over the years.
The menu:

Truffle Risotto ai Funghi – Mosimann's signature dish

Chateau Malartic White 2006 and 2013

—

Seared Fillet of English Beef White and Green Wye Valley Asparagus with Rosemary Jus

Chateau Malartic Red 2009 and 2011

—

Selection of English and French Farmhouse Cheeses

Chateau Malartic Red 1998, en magnum

—

Bitter Sweet Dark Chocolate Fondant Fior di Latte Ice Cream

—

Coffee, Petits Fours
The evening will begin with a canapé reception, hosted by the owner of the Chateau Malartic vineyard, Severine Bonnie; IWSC general manger Adam Lechmere; and Harden's co-founder, Peter Harden.
Dinner will take place in the Garrard Room accompanied by the 2013 and 2006 white wine, the 2011 and 2009 red, followed by the 1998 in magnum. The 2009 in particular is universally acknowledged as one of the vintages of the century in Bordeaux.
Tickets are just £165 (the price for some of the bottles on restaurant wine lists!). The evening takes place on June 21 and begins at 7pm. Email Tracy Hall th@hardens.com or call 020 7839 4763 for full details and terms and conditions.
Recent News from Harden's