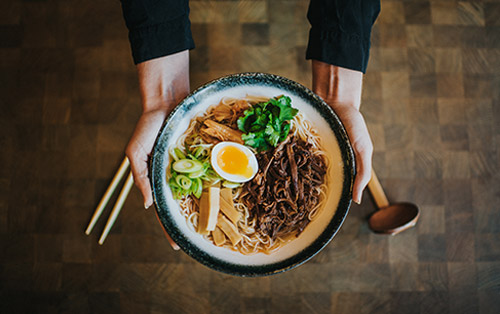 Wagamama has launched a new grab-and-go concept called Mamago, with the first opening at 120 Fenchurch St, London, on Tuesday.
Executive chef Steve Mangleshot said he and his team travelled across Asia developing a menu that features rice bowls, breakfast wraps, vegan dishes, salads, noodles, omelettes, fresh juices, and smoothies.
Mangleshot said: "We've borrowed a few things from Wagamama including the phenomenon that is katsu curry – so you'll see some katsu dishes done in a Mamago way including a katsu chicken wrap, a vegan cauliflower katsu rice bowl, chicken katsu rice bowl and naked chicken katsu salad.
"All the dishes have been developed with health in mind which means there is no guilt to eat at Mamago everyday for breakfast and lunch.
"I have taken inspiration from my travels to Japan when developing these dishes. In Japan so much of the food is designed to be eaten on the go and we have always wanted to bring some of those ideas back here."
The new concept has launched with waste in mind. There's no plastic packaging, and instead card and corn starch is used.
Design director Mark Standing added: "Great care was taken in the evolution of the Mamago design and environment. It was important to make it clear to our guests that it was from the Wagamama family with all the quality assurance that goes along with that, but that it had a separate, vibrant and unique personality of its own.
"We worked hard to make sure we used as many recycled, sustainable or up-cycled materials as possible, in line with our environmental beliefs. The tables for instance were 'up-cycled' from one of our core Wagamama restaurants following a recent refurbishment. We're thrilled with the result and can't wait to see what our guests think of the entire proposition."