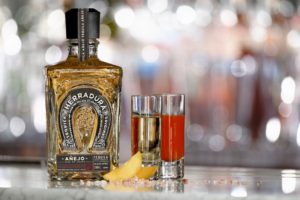 Often mistaken as Mexican Independence Day, Cinco de Mayo actually celebrates the victory of Mexican troops over the French in the 1862 battle of Puebla.
Tequila and mezcal both play a major role in today's celebrations – for obvious reasons – with tequila sales doubling in bars and restaurants on 5 May. International exports meanwhile have risen from 135.1 million litres in 2007 to 213.3 million in 2017, demonstrating the spirit's immense popularity.
Mezcal production, with distillers producing small batches from many different varieties of the agave plant, is on a far more artisan level than tequila. While the vast majority of mezcals are produced from the espadin agave, there are dozens of permitted varieties – nobody seems to know quite how many, but most agree there are more than 30.
Now mezcals produced from such agaves as madrecuixe and tepeztate, and tobala, are becoming more visible, though still produced in tiny quantities.
Tequila, on the other hand, is produced only from the blue agave. Experts use a wine analogy to point out the difference: if tequila is chardonnay, mezcal is every other white grape variety.
While mezcal is on a steep upward trend, tequila remains hugely popular, especially for aged and wood-matured styles. At the entry level, tequila may be produced in industrial quantities – and be a staple of testosterone-heavy drinking sessions – but at the top end it is a highly sophisticated spirit.
Celebrate Cinco de Mayo the right way this year with a bottle or two of award-winning tequila and mezcal – the following are all IWSC trophy, gold and silver medal winners.
Clear complexion. Meaty, savoury and broad on the nose with a delicious smoky, earthy, complex backdrop. Peppery, weighty and textural in the mouth with a lively interplay of smoke and agave leading in to a lingering finish.
Where to buy: The Whisky Exchange, £58.95
Light gold. Delicately smoky on the nose, with a subtle wood influence complimenting a range of inherent agave bass notes. Light and delicate in style, with a judicious use of oak bring additional complexity to proceedings. An integrated smokiness plays well against underlying vegetal notes, whilst the finish is focussed and elegant.
Where to buy: The Whisky Exchange, £33.75
Mid-gold in colour. An impressively bold and oaky nose delivers aromas of vanilla, spice, smoke – yet background notes of agave are still forceful enough to be heard. Big in the mouth with lavish oak imparting a sweet edge to the earthy, saline, backbone of flavour. A well-constructed product, which manages oak well.
Where to buy: The Whisky Exchange, £36.75
Incredibly clean, direct, focussed and expressive on the nose, laser-precise aromas of fresh agave, tropical fruit and smoke come forth on a delightfully pure nose. Weighty, flavoursome, complex, fresh and structured on the nose; this mezcal has it all. A superb example, which reveals different aspects with each sip. Brilliantly crafted, this ticks all the boxes.
Where to buy: El Palacio de Hierro, $1,855
Mid gold in colour. Overtly earthy and vegetal on the nose with a broadness and savoury character. Weighty and mouthfilling with a rich and savoury profile which suggests notes of chocolate, coffee, roast vegetables and dried fruit. Refined, smooth and complete on the finish.
Where to buy: Master of Malt, £52.45
Agave driven and focussed on the nose, with an indulgent and warming plethora of herbs, grass, caramel and scorched earth. Deeply flavoured, smooth and rich in the mouth with an attractive interplay of fresh green pepper, roast agave, sweet toffee and toasty oak. Harmonious and broad on the finish.
Where to buy: Drink Finder, £33.99
Restrained and understated on the nose with classic agave and pepper notes complimented by perfumed floral aspects and a whisper of mint. Medium bodied and nicely balanced, this tequila has an attractive elegance and a refined quality. Freshly flavoured and tightly structured with a discreet use of oak.
Where to buy: Master of Malt, £57.95
Brash and confident on the nose; nutty, savoury, toasty, biscuity and chocolaty, with soft agave undertones bringing balance and character. Rich, full-bodied and flavoursome in the mouth, peppery notes of agave wrestle with an onslaught of toasty, smoky oak, and win! A well-made, wood aged, style.
Where to buy: Haskell's, $43.99
Exotic, impressive and loud on the nose with aromas of candied pineapple, lavish oak, layered spice and vanilla. Big, bold and beautifully balanced in the mouth, this punchy, flavoursome and uncompromising expression is oak heavy but very well crafted. Lengthy and layered on a massive finish.
Where to buy: Crown Wine and Spirits, $34.99
Nose: Sweet vanilla and a grassy agave note, plus a touch of salinity. Taste: A little smokiness combined with a light salinity that gives the spirit a distinctly savoury character. Sweet spice notes at the start fade behind a gradually-building dry, woody finish.
Where to buy: The Whisky Exchange, £48.45
More from Hardens