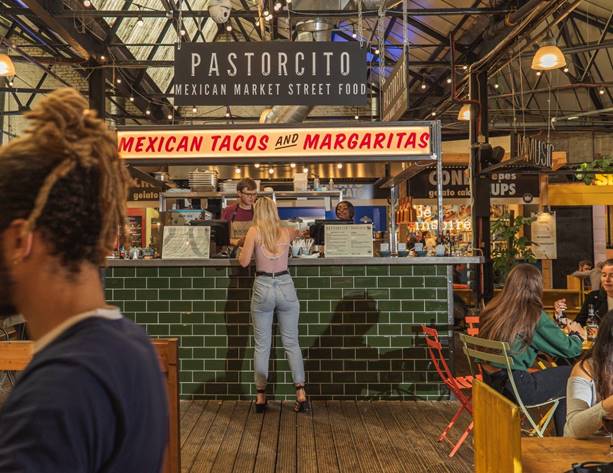 Harts Group has opened its second Pastorcito site. The restaurant, under the El Pastor banner, has launched in the Mercato Metropolitano food hall in Elephant and Castle, London.
Pastorcito offers a short menu of tacos and wheat wraps, as well as a frozen margaritas, mexican beers, tequila, and mezcal. It's the sixth taqueria from the Harts Group, which also launched the brand at the Arcade Food Theatre in west London this summer. Reporters call the food "divine".
Dishes include 24-hour marinated pork shoulder, caramelised pineapple, guacamole taquero, white onion & coriander; Baja fish with beer-battered sea bass, shredded cabbage and pico de gallo; and chicken tinga tacos with jalapeño and soured cream.
Co-founder Crispin Somerville said: "Over the past months, we have focused closely on upping tortilla production without compromising quality, which we now believe are our best yet.
"The case is the same with our daily-produced braises and fresh salsas. This has enabled us to set up Pastor trompos and market taquerias delivering the real deal directly from the stand to the guests' hands, whilst maintaining a consistently excellent product across our various venues.
"We got on board straight away with the values at Mercato Metropolitano and the vibe is always brilliant. We're excited to be here"
Andrea Rasca, founder and chief executive at Mercato Metropolitano, said: "At Mercato Metropolitano, we believe in an inclusive, collaborative and balanced business model.
"This is delivered by working with true food artisans, who care about responsible supply chains that respect farmers and communities, and who create nutritious menus from sustainable, high quality ingredients.
"The team at Pastorcito have the same passion for all these values as we have. Therefore, MM is delighted that Pastorcito has decided to sign-up to our Manifesto and become part of the MMovement. The more people understand these fundamental values, the quicker we will adopt a more sustainable food system."
More from Hardens