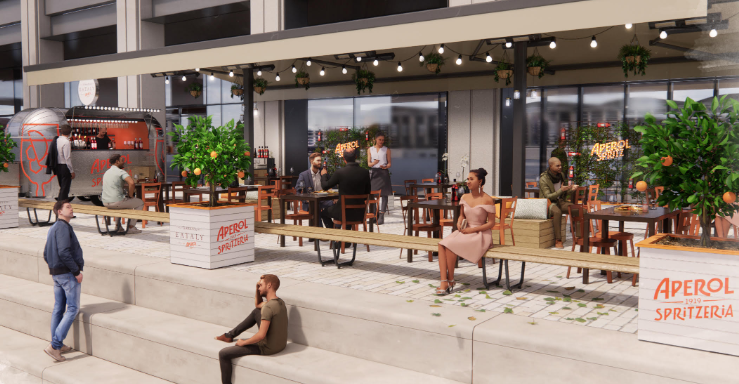 Eataly, the world's largest Italian food market and restaurant concept, will launch on April 29. We don't so much care for the markets, grocers, cookery schools, wine shops and the like all on the way. Well, we do, but we're here to tell you about the restaurants.
La Terrazza will offer an Italian menu of sharing dishes for the summer, and will also be host to the Aperol Spritzeria, offering cocktails, wine and beer to bring a taste of the Italian sunshine to the city, with bookings now open.
Eataly's ground floor will be offering a selection of take-away options such as Roman-style pizza by the slice at Pizza alla Pala, fresh pasta made every day at Pasta Fresca Bar, Italian paninis, focaccia, salads and classic meals to go from the Made In Eataly area. There will be a cafe and gelataria too, of course.
This preview phase, while indoor dining is restricted, will be followed by the grand opening on May 20, celebrating the official launch of the two indoor restaurants, Cucina del Mercato and Pasta e Pizza, as well as the in-store bars, and seating areas around the other eateries.
Terra, the finer dining destination within the site, will open its doors later in September. Bookings for Cucina del Mercato and Pasta e Pizza restaurants are now open too.
Eataly CEO, Nicola Farinetti, said: "We are delighted to finally open our Eataly London doors to bring our love of Italian gastronomy to the UK at a time when consumers and hospitality professionals appreciate and need it the most.
"Eataly was founded with a vision to bring the biodiversity, craft and different layers of culinary experiences of Italy together under one roof, under our motto of "Eat, Shop, Learn".
Togetherness is at the heart of our brand and, while we will adhere to and implement all the necessary safety measures, we cannot wait to meet our new locals and celebrate passionate artisans and high-quality food in a dynamic and culturally diverse reality such as London."
Eataly London Store Manager Matteo Ferrio added: "Our opening roadmap reflects a journey that brings our unique offering to life in line with the government's plans.
"We have adapted our services and measures to make sure our London opening is perfectly compliant whilst ensuring customers still have the experience that is at the heart of the Eataly brand.
"La Terrazza di Eataly is testament to this, our outdoor dining concept we have adapted to make the most of the outdoor space we have until we can open our restaurants.
"With health and safety our top priority, we will open with services in-store and online that will welcome Londoners to have a first taste of Eataly and entice them to discover and savour what's to come throughout May and the rest of summer."
Recent News from Harden's