Chef Tom Kerridge, known for the Hand and Flowers pub-restaurant, cookbooks and broadcasting, is coming to London. Kerridge's Bar & Grill at the Corinthia Hotel will open in September 2018.
It will be a 'relaxed, brasserie-style dining room', an announcement sent to Harden's says, and will feature an adjacent all-day bar.
It's safe to say the arrival of Kerridge is one of the more hotly anticipated openings in London this year. And the space sounds impressive, with high ceilings, leather chairs and button-backed banquettes in dark green and burgundy. Grand, classic – and not at all like the chef's much reported (in The Harden's Annual Survey) casual pub in Berkshire.
Tom Kerridge is coming to London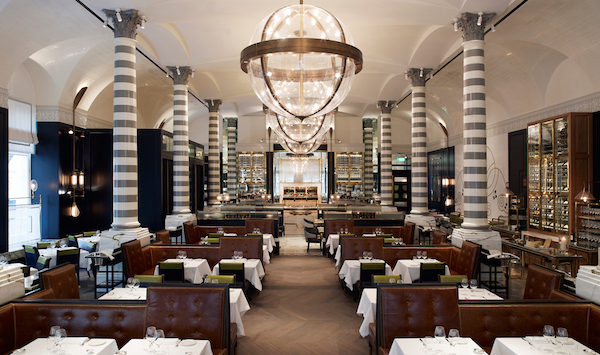 There'll also be an open rotisserie bar with meat, fish, and vegetables, as well as feature fridges full of hanging meat – all of which will be sourced from Kerridge's butcher shop in Marlow. Indeed, the menu will be more akin to The Coach, Kerridge's pub in the village.
The Coach is popular with Harden's readers, who say the food is "delicious".
"[It] is not the local pub that it might appear to be, and full and buzzing from dawn to dusk", said one.
Head chef Nick Beardshaw is being installed in the Corinthia kitchen. He's been integral to Kerridge's success so is expected to deliver. English wines and champagnes will suit the London crowd, though it wouldn't be at all a Kerridge venue without ales and lagers on tap. There'll be plenty. Fine wines will be on display in glass cellars.
Kerridge said: "We are incredibly excited about opening Kerridge's Bar & Grill at Corinthia Hotel London.
Work has begun on the design and the space, and Nick and I, along with the whole team, are
enjoying creating a menu that will befit such a stunning room".
Thomas Kochs, MD of Corinthia Hotel London, added: "Every day I work with Tom Kerridge and his team, and Simon Rawlings from David Collins Studio, the anticipation builds of what I know will be a fantastic opening and a wonderful new addition to London's restaurant scene. I look forward to September when we can finally welcome guests to this new dining experience."
Recent News from Harden's