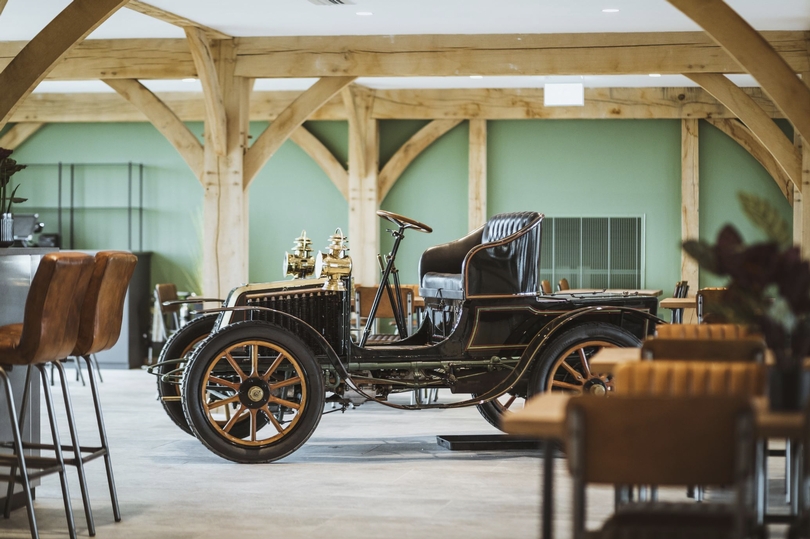 A new motoring-themed restaurant opens in North Yorkshire today, with classic cars parked between the tables. The Arnage, named after a famous corner at the Le Mans racetrack, is part of The Motorist showroom and events space at Sherburn in Elmet, near Selby.
The Motorist was founded by Simon Spinks, a fifth-generation bed and mattress manufacturer who runs Harrison Spinks in Leeds and is also a car nut – he drove a Ford Escort in the 2015 Peking to Paris Rally. His son Daniel designed the restaurant, which has 78 covers on the ground floor and another 100 upstairs in Club Le Mans, its corporate lounge, along with views over the car shows.
Chef Ian Matfin, who has parked his toque at Claridge's in London, Abode in Manchester and Raymond Blanc's Le Manoir aux Quat'Saisons among other places, has designed a menu of British and international classics, with site-specific references – diners begin their meal at the "starting grid", leading to the "formation lap" then the "main event", with lighter bites and sandwiches are designated "pit stop".
Simon Spinks says: "We are so proud to finally announce the launch of our latest project at the Motorist – the Arnage. The menu we've created is something really special, that is not only a nod to the motoring world but showcases our proud roots in North Yorkshire with some fantastic, quality, local produce. We now just can't wait to welcome everyone through the doors."