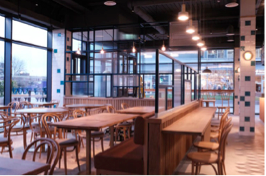 After opening a venture of the same name in Bristol in 2017, former Dabbous chefs Ross Gibbens and Michael Kennedy have branched out to London, setting up shop alongside several other restaurants (including Kricket, Homeslice and Shola-Karachi Kitchen) in the old Beeb HQ in West London. Wellbourne Brasserie opened this week at White City Place, featuring a unique all-day dining menu.
Dishes include: homemade crumpets served with Wellbourne Brasserie's own hot smoked mackerel for breakfast and mains such as Veal Holstein; hens egg, lilliput capers & smoked anchovy.
The team have imported a specialist Mibrasa charcoal oven from Spain and a variety of dishes are cooked over hot coals such as the 50 day salt aged Simmental beef & wild juniper and Ross-on-Wye green asparagus, sunflower seed praline & salted butter.
The Plate du jour, priced at £10, includes dishes such as: Bavette, chips & aioli. Vol au vents are a signature of the brasserie and available as appetisers, varieties include English broad beans, ewe's cheese & mint, Salt cod brandade and Duck riellettes.
The 40-seater brasserie boasts an alfresco south facing terrace overlooking the Green, a 30-seater lounge bar and the Charles Packe private dining room with bespoke enomatic wine dispenser machine, which is named after Wellbourne's fine dining space in Spain – Wellbourne Salardu, a seasonal fine dining and après ski restaurant in the Spanish Pyrenees.
Gibbens and Kennedy have worked in some of the UK's leading kitchens including Le Manoir aux Quat'Saisons, Launceston Place, The Square and The Vineyard in Berkshire. More recently Ross was Head Chef at Dabbous and Michael was his Sous Chef.
Recent News from Harden's