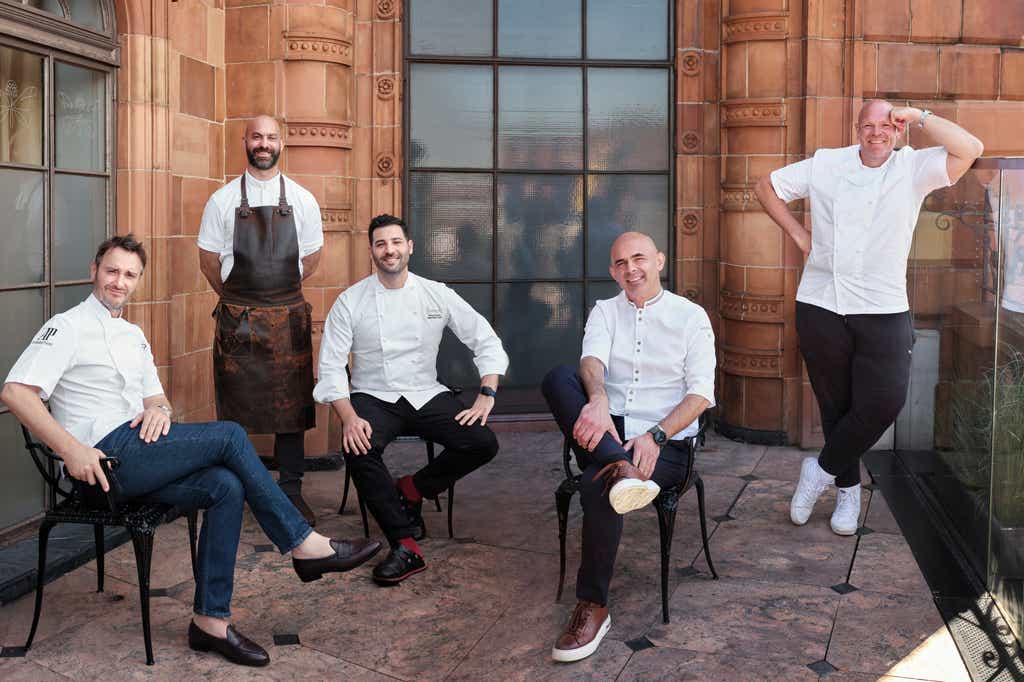 Harrods will bring together an all-star group of chefs – six chefs with 12 Michelin sparklers between them – for a one-off high-rollers' charity banquet next week (Thursday 25 September) costing £2,500 a head.
Limited to just 25 diners, the meal will raise funds for Refettorio Felix at St Cuthbert's in Earl's Court, part of Italian chef Massimo Bottura's Food for Soul project, which uses surplus food supplies to provide meals and other support for vulnerable adults.
Not entirely coincidentally, the six chefs are all part of the line-up in Harrods' newly beefed-up dining zone, and include some of the best-known faces on the hospitality scene, each of them contributing one course.
They are, pictured left to right, Jason Atherton; Dave Pynt, the Aussie chef behind Burnt Ends barbecue restaurant in Singapore, who is soon to launch an offshoot in Harrods; Phil Khoury, Harrods' own head of pastry; Angelo Musa, pâtissier extraordinaire at the Hôtel Plaza Athénée in Paris; and Tom Kerridge.
The meal will be kicked off by Swedish superstar Björn Frantzén, who did not make the photo-shoot. His tuna and red deer tatare will set a standard that the other five will strive to match, all to be accompanied by wines including 2010 Chateau Haut Brion Blanc, a number of vintage Champagnes and Louis XIII Cognac.
Ashley Saxton, Harrods' head of restaurants, said: "Gathering these six visionaries — who are at the absolute top of the culinary world — together for one night, was no easy feat. To see these chefs together in one place, to see how they inspire and challenge each other to create the world's most exclusive meal, will a dream come true for the lucky gourmands who join us on the night."