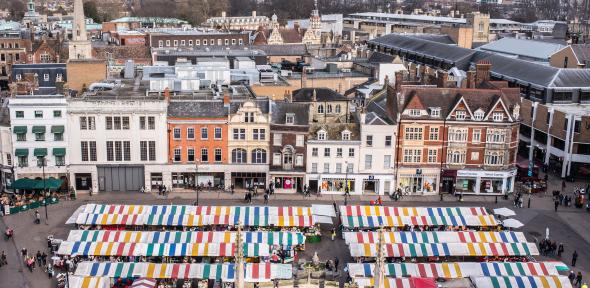 A new multi-level restaurant concept is scheduled to open this month at the edge of Cambridge's ancient market, in the building occupied for almost 50 years by well-known Italian restaurant Don Pasquale.
Market House will incorporate a restaurant, an all-day cafe, a wine bar, a food lab and flexible meetings rooms over five floors of the Grade II listed building which overlooks a market place in use since the Saxon era.
The couple behind the project are former St John's College catering manager Bill Brogan, who cut his teeth as chef at Le Tolbooth in Dedham, Essex, and Jinzhao Li, an education and tourism entrepreneur who is director of the Cambridge China Centre.
Don Pasquale was founded by the Benedetto family in 1973 but did not reopen after the lifting of Covid restrictions in June 2020, amid complaints that operating costs in the city centre had become prohibitive and that it struggled to compete on pricing with the food stalls that have proliferated in the market.
Now run by second-generation owners, cousins both called Pasquale, the Benedetto family business has switched focus to its two gastropubs in villages on the Cambridge fringe – the Plough at Coton and the Old Crown at Girton.