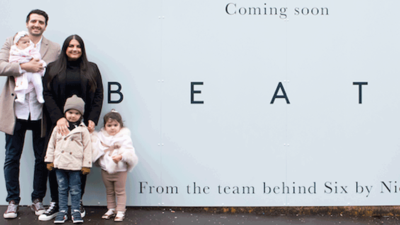 Nico Simeone, the chef behind the fast-growing bargain tasting-menu chain Six by Nico, is opening a new restaurant in his native Glasgow next week and donating all its profits to charity.
Beat 6 in Whitehall Street, Dennistoun, has been set up to provide funds for Glasgow's Beatson West of Scotland Cancer Centre, which treated Nico's wife, Valentina, when she was diagnosed with Non-Hodgkin lymphoma at the age of 25 in 2015.
The 34-cover restaurant opens on Tuesday 16 November, and will serve a rotating menu of favourite dishes from Six by Nico, whose themed six-course tasting menus at £32 a head (£37 in London) have powered expansion to six other cities since the first opened in Glasgow in 2017.
Nico said: "We like many others hold a special place in our hearts for the Beatson. We hope that the proceeds from Beat 6 will benefit the charity and the staff to whom we owe so much, as well as provide our team with the opportunity to be part of such an important cancer journey.
"We genuinely hope that this is the first of many Beat 6 restaurants that we will be able to open for them, and we will always be grateful for everything they do to help change the lives of those affected by cancer every day."
This is not the first time Nico has shown his social conscience. In March 2020 he gave ownership of his Kelvinside restaurant 111 to Senegalese chef Modou Diagne, who arrived in Glasgow as a penniless 18-year-old and spent time sleeping rough before grabbing an opportunity to work as a kitchen porter for Nico, and working his way to the top.