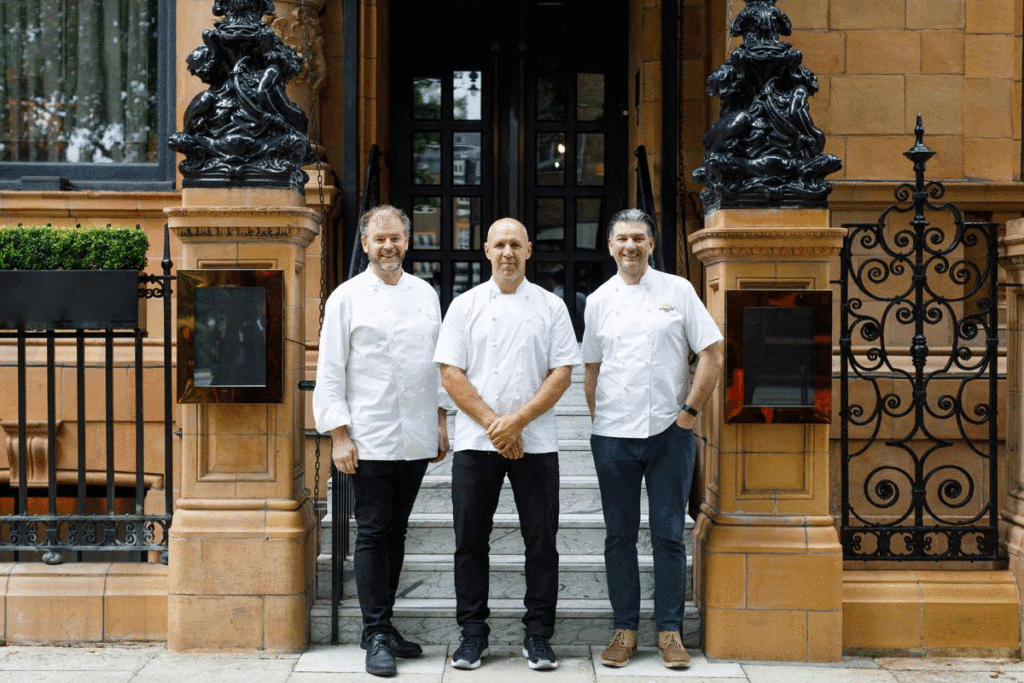 Michelin-Starred brothers Chris and Jeff Galvin will open Galvin Bar & Grill in collaboration with head chef Adam Gray at Kimpton Fitzroy London, opening on September 27.
The Galvin brothers and Gray will be taking a "modern-day approach to the British bar and grill with a menu focused around ethically sourced produce. While rooted in British cooking, the menu will not be wedded to traditional dishes, instead, drawing on other cultures to reflect the diversity of modern Britain. The menu will embody how the Galvins would like to see Britain today: ethical, generous and open."

Housed in the dining room of Kimpton Fitzroy London on Bloomsbury's Russell Square, the restaurant will have its own entrance on Guilford Street. Diners can head straight for the 100-cover dining room or stop off for an aperitif in Fitz's, one of the most promising new cocktail bars.

Heading up the kitchen will be Adam Gray, who held a Michelin Star for over a decade as head chef alongside Gary Rhodes at Rhodes 24. In recent years, Gray has been an advocate of healthy and sustainable eating, being closely involved in the launch of The Ethical Butcher, a sustainable online collective who will feature on the carefully curated all-day menu at Galvin Bar & Grill.

To start, dishes will include a salad of Williams pear, caramelised walnuts and Oxford Blue cheese, and glazed Dorset lobster omelette. Mains will include beef short rib with salt-baked celeriac, bone marrow and ale-braised onions; Turbot T-bone, aromatic fennel, potato terrine and a herb butter sauce; and Yorkshire grain-fed chicken cooked with smoked garlic, girolles and hasselback potatoes.
The team will be firing up the grill and putting on a variety of 32-day aged beef cuts including rib-eye, fillet and sirloin on the bone, as well as British seafood and day boat specials. For those looking for plant-based or vegetarian options there will be tartare of late harvest tomatoes and grilled sweet peppers, and roasted pumpkin with Berkswell and sage.
Dessert highlights will include the Galvin brother's legendary apple tarte tatin with clotted cream ice cream, along with Adam's take on British classics including bread and butter pudding, and autumn berry trifle, as well as selection of British and Irish cheeses.
"This opening is a very special one for us. Having worked in restaurants in a number of London's best hotels, we have always enjoyed welcoming guests from far and wide and are looking forward to showing them the best of what modern British cuisine has to offer. Kimpton's restaurants and bars are gathering places loved by locals and hotel guests alike. Their innovative approach to food and drink, as well as creating warm and inclusive dining spaces, perfectly aligns with our own. Ethical and sustainable eating is also very important to both brands. Up to fifty per cent of diners in our other Galvin restaurants choose a plant-based or vegetarian tasting menu, so we have enjoyed working with Adam to ensure this is reflected in the menu at Galvin Bar & Grill," said Chris Galvin.

General manager Garreth Walsh added: "We are thrilled to be working alongside Chris, Jeff and Adam for the launch of Galvin Bar & Grill. Restaurants are integral to the Kimpton brand, and we're so excited to have partnered with the Galvins, who are very much loved and respected by guests, and across the industry.
"We look forward to welcoming both our regulars and new visitors to the refreshed space to enjoy incredible dining that reflects the fantastic talent of the London food scene and seasonal produce available in the UK".