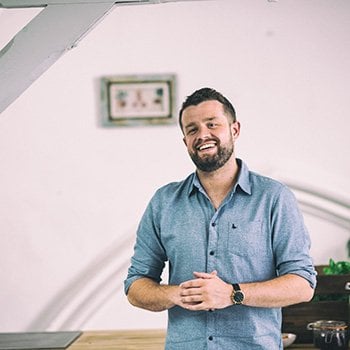 Chef Sven-Hanson Britt will finally open his long-planned first restaurant, Oxeye, on October 21 in the newly developed Embassy Gardens zone at Nine Elms, near the US Embassy and the new Northern Line Tube extension.
Small in dimensions, with six tables serving a maximum of 16 guests per meal, Oxeye is big in ambition, serving only a tasting menu of up to eight courses plus nine canapés. This will change daily, but one constant will be the signature dish of Cornish turbot on the bone, braised bone femme-style with herbs in oxidised Nyetimber Tillington single vineyard sparkling wine from Sussex. There will only be six sittings a week – lunch and dinner Thursday, Friday and Saturday – to improve both prep and relaxation time for the kitchen team.
There will also be the option of an all-English wine flight served to accompany the meal. Next door, Oxeye's Bar Rex will have 300 British wines available to drink or buy retail, along with a grazing menu of shellfish, house-cured charcuterie and a cheeseboard.
The Hampshire-born chef – whose name commemorates distant Norwegian forebears – trained in the classic French style under John Williams at the Ritz, and has been influenced by Simon Rogan's ingredient-led approach at L'Enclume. He came close to opening Oxeye on the Melbourne estate in rural Derbyshire as a "perfect farm-to-fork restaurant" before Covid struck, and the experience will not be wasted: one of his kitchen's key ingredients will be longhorn beef from Derbyshire.
Britt makes no secret of his high ambitions for the launch: "We're thrilled to be building one of the most exciting new restaurants in the United Kingdom. The only limitations are the ones we put on ourselves. Our menus are a representation of the very best ingredients that we can get our hands on, often picked, planted, sown, reared, fished or aged ourselves."
Recent News from Harden's