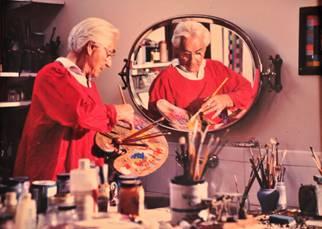 The Hart Brothers will open a branch of their smash-hit Barrafina tapas bars along with two other venues in the new Borough Yards development adjacent to Borough Market early next year. It will be the first foray south of the Thames for Barrafina, the highest-rated Hispanic in the most recent Harden's survey and the only group to score top marks for food, service and atmosphere year-on-year.
There will also be a branch of Parrillan, where diners grill pre-prepared meat and vegetables on table-top mini-parrilla grills, and the brand-new Bar Daskal, a Spanish wine and sherry bar serving cold tapas dedicated to the memory of the brothers' maternal grandfather Vladmimir Daskalof (see photo), a Bulgarian artist who settled in Mallorca with his Scottish wife. It will host a permanent exhibition of his work from the family's private collection.
Sam Hart says: "My love of Spain and its cuisine began as a child in the house my grandfather built in the small village of Estellencs. It's wonderful to honour these memories by bringing Bar Daskal, Barrafina and Parrillan south of the river."
The Hart Brothers – Sam, Eddie and James – already have a strong foothold in Borough; they launched their Mexican taqueria group El Pastor on the edge of the famous food market five years ago. They followed that in 2018 with their first multiple opening on the same site, with Barrafina, Parrillan, Casa and Plaza Pastor and The Drop bar at the new Coal Drops Yard behind King's Cross station. Barrafina, which was inspired by Cal Pep in Barcelona, was founded in 2008 and currently has two branches in Covent Garden and one each in Soho and King's Cross.
The Borough Yards development has transformed a block of Victorian railways arches and warehouses for mixed use, with office, an Everyman arthouse cinema and shops alongside food and drinks venues. A ninth London branch of the Butchies fried-chicken sandwich chain is among the others, with Vinoteca and Dishoom reportedly in the mix.